Fun Vegetarian Recipes For Kids

1 Jan 2011
Fun 'n' frolic is what kids love to hang around with, and that implies for food as well. Fun vegetarian recipes for kids will add that touch of novelty, topping it all with fulsome fun, making children eat up the dish with a bat of an eyelid!.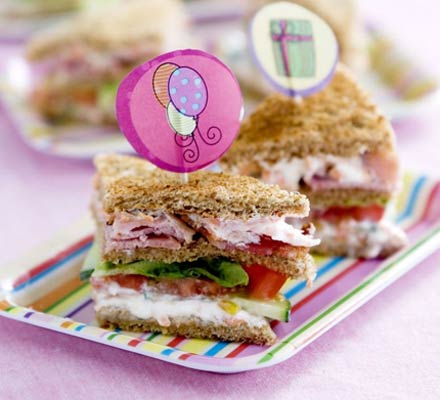 So here are some fun vegetarian recipes that your kids would love to indulge in :

•    Burritos : Use scrambled eggs with vegetarian sausage, fried tempeh, with a topping of diced tomatoes, jalapenos, salsa, or sour cream; to be wrapped up by corn or wheat based tortilla – making a scrumptious breakfast menu item.

•    Celery boats : Can rowing the boat with fun vegetarian recipes be more easier? Celery boats cupping raisins and peanut butter are a favorite among kids. You could also try alternatives such as chocolate peanut butter, nutella or sunflower seed butter, which are equally tasty.

•    Vegetable fired rice : A bowl of colorful frozen vegetables is stir-fried with ginger and garlic, to which cooked rice is added . A teaspoon of toasted Sesame oil is added to the rice and stirred properly. The color, texture and flavor of the vegetable fried rice make it a fun vegetarian recipe idea.

•    Grilled sandwiches : Sandwiches are an all time favorite and the different varieties of cheese available adds a distinction to grilled sandwiches. As a fun vegetarian recipe for kids, mozzarella, Gouda, parmesan, brie cheese can be used. Peanut butter and jam have always won hands down with buttered bread, whereas grilled nutrella makes an awesome treat between pumpernickel bread.

•    Fajitas : Chopped onions, green pepper and zucchini are seared till tender and crispy. For the meat, some other substitute can be used, if desired, and then browned. The veggie mixture is then spooned into de-stemmed collard leaves with a topping of sour cream, shredded cheese or lime juice and the colorful fajitas are great to look at and fun to eat as well.

•    Barbequed tofu : A package of extra-firm tofu is drained of its moisture by placing it between paper towels. The tofu then cut into the shape of patties, is browned on both sides in a heated wok. The tofu is then topped with sauce made of two tablespoons of honey  1/4th cup vinegar, 1/2teaspoon molasses, 1/4teaspoon pepper, 1/2teaspoon ground mustard powder, and ¼ cup soy sauce cooked over medium heat until thickened.

•    Black-eyed pea and quinoa croquettes: A protein-packed snack item, this is a fun vegetarian recipe for kids, with quinoa, olive oil, black-eyed peas, paprika, dry basil,  salt, black pepper, thyme, soy sauce the croquettes are so irresistible that even children have a dig at it.

•    Apricot cherry compote:  Dried apricots, dried cherries, dark raisins, grated ginger,  orange/apple juice, are put in saucepan containing water and simmered for fifteen minute after which hazelnut liqueur, is stirred in and simmered for another five minutes. The compote is ready and can be served warm over ice creams, cakes and pancakes.

•    Broccoli and rice casserole : Broccolis are beautiful as florets and, process it to your liking (blending, pureeing etc)... they give the luster and color of your favorite green.  Steamed broccoli mixed with soup stock, lemon juice, olive oil  is made into a smooth puree. The shredded cheese and cooked rice is placed in a dish topped by the broccoli puree, and then placed in the oven for 15 minutes. Broccoli and rice casserole is now ready, serving as a fun vegetarian recipe, which kids can't resist.
Fun vegetarian recipes for kids can make even the most picky eaters 'dig in' because the wide spectrum of colors and flavors which go into these dishes simply hold, even  the most dormant taste buds in sway!
Photo courtesy : bbcgoodfood.com
Fun Vegetarian Recipes For Kids