What Are The Uses Of Parmesan Cheese
9 Nov 2010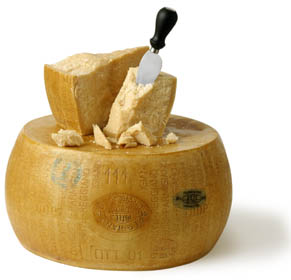 "What are the uses of Parmesan Cheese?" - asked my nephew who was working on a write up about parmesan cheeses. Actually I loved eating parmesan cheese slices with plain bread and have very rarely used it in any food preparations. So, in pretext of helping out my nephew, I wanted to learn the art of incorporating parmesan cheese in different food preparations. While scouting through cookery magazines and internet, I came across some wonderful uses of parmesan cheese. But before elaborating about those uses, I felt it is important to highlight some other details of the parmesan cheese like its origin, flavor, texture, etc.
The basic difference between Parmesan cheese and other cheeses is that it is cooked, not pressed like other cheeses. Parmesan cheese is grainy, firm and fatty than most other cheeses. The term Parmesan is anglicized version of Parmigiano –Reggiano which has Italian origin. The cheese derives its name from the place of its origin. Mostly Parmesan cheese is produced in regions of Emilia-Romagna (Parma, Bologna, Reggio Emilia, and Modena) and Lombardy (Mantova).
Parmesan cheese is prepared from cow's raw milk.  Unlike the other cheeses, grass fed milk is a necessity for this type of cheese. The authentic Parmigiano – Reggiano cheese have complex fruity and gritty flavor. The true parmesan cheese is a hard yellowish in color and breaks in sliver like patterns. The cheese is generally lighter near the center and harder towards the crust. The cheese doled out from the harder portion is considered to be best than the ones grated from the softer parts.
The important uses of parmesan cheeses include
Parmesan dipping sauce: You need mayonnaise, parmesan and Dijon mustard to prepare this sauce. Combine all the ingredients and the sauce is ready.  You can serve it with pretzels, toasts or other raw vegetables.
Parmesan meat loaf: You need grounded beef, egg, onion, flat-leaf parsley, bread crumbs, grated parmesan, tomato paste, pepper, and salt to prepare this meat loaf. Combine all these ingredients and bake the mixture at 400 degree Fahrenheit for 40-50 minutes, until done. This meat loaf can be served as a mid time snack.
Parmesan dressing:  You need grated parmesan, sour cream, olive oil, kosher salt, black pepper and white wine vinegar to prepare this creamy dressing.  Combine all the ingredients in a bowl one by one and whisk them together. Now, the dressing is ready.
Parmesan Polenta: You need grated parmesan cheese, kosher salt, instant polenta and unsalted butter to prepare the polenta. Boil water, add salt, and slowly whisk polenta, cook over medium heat, till the polenta thickens. Remove from heat and add butter and parmesan. You can serve it with beef straccoto.
Eggplant Parmesan with goat cheese sandwich: You need eggplant, olive oil, kosher salt, sandwich bread, tomato paste, freshly grated parmesan and fresh goat cheese to prepare this sumptuous sandwich. Brush olive oil on both sides of eggplant by heating it in a pan and sprinkle them with salt. Spread tomato paste on two pieces of bread and goat cheese on other two pieces. Stuff the eggplant within the sandwich. Brush both sides of sandwich with oil and press it on parmesan. Now, fry them in oil till they get browned. 
Image courtesy: bolognacookingschool.com
What Are The Uses Of Parmesan Cheese