Spices That Go Well With Eggplant
28 Oct 2010
Eggplants, the high-fiber low-fat vegetables have a unique advantage over all other vegetables - they have no distinct flavor of their own and hence, they give you the unfathomable freedom to cook it in any way you want to. The varieties of spices that go well with eggplant are also numerous giving you the ultimate flexibility to cook it in any way you want to. Listed below are some of the most common spices to combine with eggplant: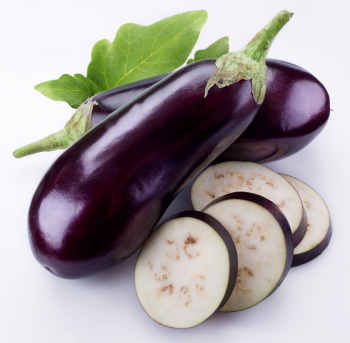 •    Garlic:

Garlic and eggplant, when united together in a dish, add as complementing flavoring agents. The strong pungent flavor that garlic brings along with it gets typically subdued by the more or less bland flavor of eggplants. Thus, while the intense flavor of garlic becomes more acceptable, the flattened flavor of eggplants gets heightened with their presence. This spice combination is almost universally used – be it a typical Indian eggplant curry or the typical Chinese dish of eggplant in garlic sauce.
•    Chili:

Adding spices like chili to combine with eggplants is another great way of heightening the vegetable's flavors. Chili, by adding heat and spice to the eggplant dishes simply brightens the whole dish up, thereby giving that subtle kick to your taste buds. The traditional Turkish dish of baked eggplants with grated cheese, chili and mint and the classic Thai dish of grilled eggplant salad with chili-lime dressing are two world-famous recipes that use this spice combination.
•    Cumin:

Roasted eggplant with cumin and lime, grilled eggplants with cumin yogurt, eggplant salads with cumin and herbs – there are endless recipes which show instances of cumin being combined with eggplants. The "earthy warmth" that cumin offers simply imparts the eggplants a heightened heavenly flavor. No wonder, this is considered to be one of the popular spice that go well with eggplants.  
•    Cinnamon:

Cinnamon is another common spice that goes well with eggplants. The distinctive odor and flavor that cinnamon imparts to the eggplants is a pleasantly unique combination.
•    Sesame:

Sesame is another great spice to combine with eggplants. The extra crunchiness and nutty touch that toasted sesame seeds add to the eggplants recipes make them delectable dishes. Adding sesame oil to eggplant dishes also gives a pleasantly distinct flavor to them. A classic example of this combination is the dish Baba Ganoush, which is made out of pureed eggplants and tahini (a Middle Eastern sesame paste).
While these are the most common spices that go well with eggplants, the list does not end here. There are other spices like ginger, nutmeg, cloves, black pepper, etc that also go equally well with eggplants. No wonder eggplant is one vegetable that universally mark its presence in all cuisines.
Photo Courtesy: recipes.terra-organics.com
Spices That Go Well With Eggplant