How To Harvest Pinion Nuts

27 Oct 2010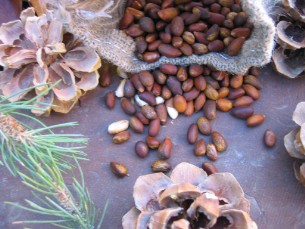 Pinion nuts are very expensive when bought from supermarkets. Knowing how to harvest pinion nuts can enable you to get some free pinion nuts that are rich in fiber, protein and Vitamins. Pinion nuts ripe once in two years and harvesting pinion nuts are a pretty difficult job to do. They have mild flavors and taste and hence can be eaten roasted or mixed with salads. Harvesting pinion nuts for personal use is prohibited in US, so check out the rules before you go harvesting.
Procedure for Harvesting Pinion Nuts
Pinion nuts are ready for harvesting when the cones inside the pine just start opening. When the cone is fully open, seeds fall of the cone on the ground. They should be collected immediately or squirrels will pick them up within no time.
Check the shape of the cone every week and plan your harvesting time. The cone should neither be tightly closed nor fully open as the nuts will fall out of it. 
Before starting with harvesting, spread a tarpaulin sheet around the pine tree for gathering nuts easily. Ideally the tarp should be covered all around the tree so that all pines and nuts fall on them. Picking up nuts from ground will be tasking. 
Pad a broomstick to knock off the pines with it.
Use a step ladder for harvesting pinion nuts from pines hanging out of the tree. Start knocking pines with the padded end.
All the pines and nuts will fall on the tarp; pick the ends of the tarp and pour the contents into a big bucket.
Keep another bucket ready, fill it with water. Separate nuts from the pines and put them in the bucket full of water.
Remove floating nuts as they would be either empty or shriveled. Good nuts will be in the bottom of bucket, drain out water and dry them on a sheet of paper for about a week.
This brings you to the end of harvesting pinion nuts. Dried pinion nuts are ready for use and can be stored for year round use. They are rich in Omega-3 which is good for heart and brain.  They are low in calories and high in fiber content.
Image courtesy: pinonnuts.org
How To Harvest Pinion Nuts