How To Make Sun Tea In A Mason Jar?
16 Oct 2010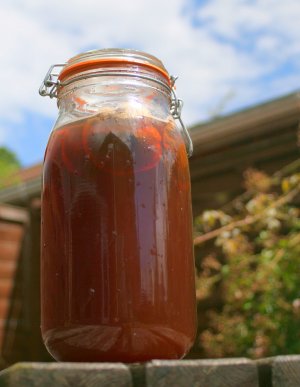 Those who are fond of tea and want to have this beverage more often and at the same time are not so keen on preparing it in a hot oven burner or tea kettle – here is an alternative. Learn how to make Sun tea in a mason jar. You can make it under the sun using a Mason jar. The jar is easily available in all grocery stores with different sizes. Pick one of the economical containers of your choice and follow these steps make sun tea in a mason jar.
Things Required: To make sun tea, you need a Mason jar, which generally has a tight-fitting lid that keeps the tea fresh, a tea bag, one cup water, drinking glass, ice cubes, lemon slices and fresh mint sprigs. Last but the most important thing sunlight. You cannot make sun tea on a cloudy day. This will make one glass of iced sun tea.
Step 1: Clean your Mason jar with a cloth and put one tea bag in it. Pour one cup of water into it and close the lid.
Step 2: Place the jar outside where you get five uninterrupted hours of sunlight. Only move when shadow comes on the jar, but place it at the correct location at the first place.
Step 3: Ready your glass in the meantime. Arrange a slice of lemon, fresh mint sprig and some ice cubes. After five hours, open the lid of the Mason jar. If the color of water changed to yellowish-brown, pour the liquid into the glass, decorate it with lemon slice and fresh mint sprig. The beverage is ready to be served with ice cubes.
Since you are now well aware of the process of making sun tea in mason jar, go for it and give it a happy start!
Image Credit: blog.coffeewithbarretts
How To Make Sun Tea In A Mason Jar?