How to Use Egg Rings?
Egg rings??? Ever heard of them?? I hadn't until I visited my cousins who is a chef . It was from him that I learned how to use egg rings and what the alternative uses are for them. These impressive kitchen tools are responsible for the muffin shaped Egg McMuffin from McDonald's. But it is not only for making the perfect muffin shaped eggs that the egg rings can be used for but before we go there, here are a few tips on how to use egg rings.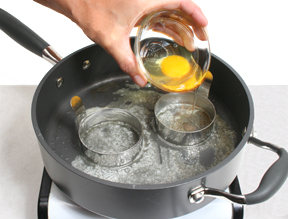 How to use Egg rings?
 
The Egg Rings as you would have already figured are intended to cook eggs. To do this you have to:
 
Heat a pan and then place the egg ring or egg rings in the pan. Ensure that you have greased the egg ring with butter, oil or coking spray before doing this.
Now you have to pour the egg into the Egg Ring
Cook the egg the way you like it. Sunny side up or hard cooked, either way the egg is gonna taste and look fantastic. You can also scramble the eggs or add yummy cooked or uncooked toppings that you like. You can use cheese, pepper, onion, sliced sausages and so on.
Once the egg is ready, transfer it to your toasted muffin or sandwich bread.
 
Alternative uses for an Egg Ring
 
You can also use the egg ring as a meat shaper to make the perfect medium burger filling. Imagine cooking your minced turkey, crab, sausages or salmon in the egg ring to get perfect patties!!! You can also cut them up into wedges and serve them as snacks for a tea party or appetizers for a party.
 
What about finishing off your breakfast with some pancakes with the eggs? Pour your pancake batter into the ring and when the bottom has set, remove the ring and flip the pancake over. You can also add your toppings without fear of the topping or the batter spilling over and spoiling the circle. This also means that you can cook more than one pancake on a pan and you don't have to worry if they will merge and become one ugly mess! The round pancakes are sure to leave your family and guests wondering about how and when you become a perfectionist in the kitchen!!!
 
Get innovative and make delicacies with a personal touch in the egg ring. My cousin had made this yummy vegetarian patty which had minced vegetables (you can use mushrooms, onions, peppers, zucchini, and yellow squash or eggplant) seasoned with oregano and thyme and held together by egg and coated with bread crumbs. They were delicious and recently I served wedges cut out from these vegetable patties as appetizers for a party I hosted at home. They looked and tasted "perfecto"!!
 
You also get egg rings in amusing shapes like flowers. These will help you make pretty patties, egg and pancakes which your kids will enjoy having.
 
The stainless steel and nonstick egg rings can also be used as cookie cutters
 
Tips on Buying an Egg Ring
 
When buying egg rings buy ones that are either made in stainless steel than silicon as silicon can resist heat only up to 260 degree C or 500 F. A better option would be to purchase the non stick variety as with these you don't have to use the cooking spray and its heat resistance is higher. Ensure that your ring is sturdy and there is a rubber or wooden(preferred) holder on the top.
 
Remember that egg rings usually come as a set of 2,3 or 4, in different diameters and often you get different shapes like flowers, bears, stars, and hearts! Pick up what you want at home.
 
Image Credit
recipetips.com
How To Use Egg Rings?