How To Use Grapes In Snacks?

7 Oct 2010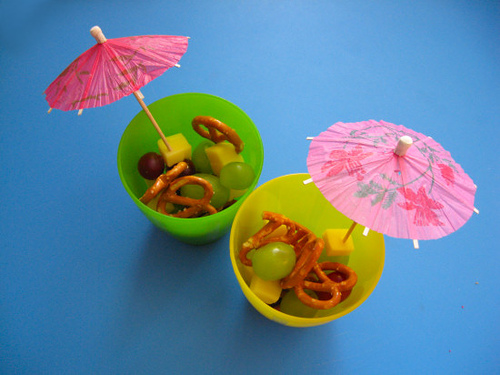 Soft, succulent and juicy…grapes are irresistible, the vivacious violets or the glamorous green these fruits are a topping way to satisfy your appetite. Additionally, with variety being the order of the day, it would be some bit of fruity goodness if you snack the grape in a melange snack-y recipes. How to use grapes in snacks?
Here are a few quick-look recipes to make scrumptious grape-snacks :

•    Grape in the spice of cinnamon :  The measurement of ingredients used in this snack-y delight uses 2 pounds of green/concord seedless grapes, with ground cinnamon (2 tbsp ), sour cream (4 tbsp), 3 tbsp of sugar and a quarter cup of toasted almonds , a little quantity of Malibu rum for the topping. The grapes once washed and pat-dried, should be cut into halves, for the juicy effect. Keep this in standing for sometime. Mix the sugar, sour-cream and the rum thoroughly  in another bowl and pour this mixture over the grapes. The bowl of grapes dressed in the creamy-mixture just requires a topping of toasted almonds. Sprinkle toasted almonds on the 'crème of grapes' to get a delectable grape snack!

•    Banana –grape combo : Here, you have the lead taken by bananas, with a squeeze of lemon and 'luscious' helping of grapes, a pinch of salt, some nutmeg, cinnamon and some cubes of butter, to be mixed and baked, giving you a grape-vine of ideas on how to use grapes in snack.

•    Fruit salad  : Grapes are the most compatible variety of fruits and their taste gels well with most of the popular fruits such as pineapples, apples , melons, bananas etc.  Slice the bananas and pineapple, dice the apples,  and de-stem the grapes and toss all the fruits in  a bowl. (you could drizzle honey before the tossing, or even a whip of cream would add a dash of flavor). Squeeze a bit of lemon juice to stop your fruits from browning. You have a mélange to eat from and there is less reason for you to say that the "grapes are sour" as you how to use grapes as a snack, in a colorful way.

•    Frozen grapes : Take a bunch of grapes, de-stem them , arrange them on a freezing tray, cover and freeze them for about 5-6 hours. Your idea of how to use grapes as snack is preserved under freezing temperatures, as the frozen grapes are yummy to eat and make a cool summer treat.

•    Grapes with cheese: How about grapes on the grill? Sounds squashy? Not exactly when you use the ever friendly cheese in combination. You mount the grapes alternating with cheese on the skewer, and then grill it. You can come out with a typical Indian style grape-cheese kebab seasoned with some indigenous Indian spices, and you have a treat which is a combo of fruit 'n' spice'.
With the above tips on how to use grapes as a snack you simply have to envisage yourself as the Fruity maiden(or musketeer) all set to pluck the fruits and prepare snacks,  about which you don't get to hear on the grapevine .
Photo courtesy :flickr.com
How To Use Grapes In Snacks?