How to Make Herb-Infused Olive Oil?
6 Oct 2010
From salads to sauces, from a dash of it on roasted vegetables to a single dip for breads, from plain flavored to the herb-infused ones, olive oil is one ingredient that forms an integral part of varied recipes in a variety of ways. Being such a multi-purpose oil, no wonder it is so pricy. Therefore, it makes perfect sense to learn how to make herb-infused olive oil at home.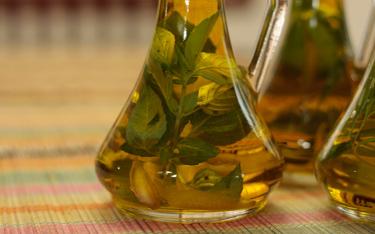 Ingredients:

For making herb-infused olive oil, you need the following ingredients:
•    Olive Oil
•    Fresh Herbs as per your choice
•    Sterilized bottles with rubber tops
•    Sauce Pan
Method:
•    Select the herbs of your choice. Some of the most popular herbs used to make herb-infused olive oil are rosemary, thyme, mint, basil, bay, dill, marjoram, etc. You can try combining them in any form to get different flavors of olive oil.
•    Once the herbs are selected, wash them and drain out the excess water. Leave them out for some time so as to dry them. Tear the herbs slightly while drying them, so that the herbal aromas are released.
•    Now, take the sauce pan and add the olive oil to it. Heat it over a low flame until the oil is warm. Ensure that the oil does not become too hot or start fuming.
•    Take the sterilized bottles and stuff the dried herbs into them.
•    Now, pour the warm oil in the bottles and let the bottles sit for some time.
•    Once cooled, place the rubber tops on the bottles. Now, set the bottle in a cool, dark place for about a week. If you have used garlic to flavor the olive oil, refrigerate it (instead of just storing it in a cool place) to avoid botulism.
•    After a week, take the bottles out and strain out the herbs and spices. Restore the strained oil in a cool, dark place and use the oil whenever needed.
You can store the home made herb-infused olive oil for almost two months. Making herb-infused olive oil is thus, as simple as this. Simply make them at home and use them in any way and in any recipe to add that magical aroma to all your dishes.
Photo Courtesy: homecookingrocks.com
How To Make Herb-Infused Olive Oil?