How to eat chopped vegetables? – Chop it up to your taste

10 Aug 2010
The battle between health and taste continues…with a popular claim that healthy foods are not flavorsome. And so is the case with vegetables, they somehow take a backseat in taste be it with adults or children. So, here is how we start making the healthy stuff -mainly vegetables, tasty too by exploring about how to eat chopped vegetables.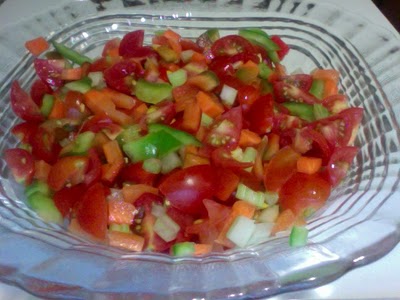 Cooking like any art just requires passion, which flows out in the most suited channel to find an expression. So, if cooking is a passion for you, and eating tasty is your mission, then the health quotient just requires a tiny slot, to make your cooking healthy and tasty at the same time.
Vegetables, whose nutritive legacy, can make you turn the leaves of child's practical notebook or a researcher's thesis, are a must-include in your day-to-day diet. What's more, if you are on a diet-regimen for a weight-loss program or towards a health-oriented goal, then vegetables are like life-savers.
So what do chopped vegetables have on offer? How to eat chopped vegetables in a variety of ways and feel the bloom of health and please your taste buds at the same time?
Eating chopped vegetables can be transformed from a 'Veg-eatable' experience to a "Veg- treatable" one, with a few tips such as :
•    Stir Fry your chopped veggies, (beans, carrots, peas, tomatoes, onions ) in olive oil. This way, you savor the taste and flavor of the nicely done veggies, wafting through with the aroma of olive oil.
•    When you are making scrambled eggs, you could add finely chopped onions, spinach and bell peppers.
•    You can also use thinly sliced cucumber or tomato for whole grain toast, with a spread of low-fat cheese.
•    If pasta is your favorite, then you can make cold pasta from whole grain penne and top it up with finely chopped carrots, broccoli, pea pods and bell peppers tossed in cheese, in a vinaigrette dressing.
•    Your pizzas made of whole wheat pita can be topped with chopped vegetables such as broccoli, bell pepper, onions and capsicum.
•    Finely chopped vegetables in the way of zucchini, carrot,, bell peppers, spinach can be added to burgers, meatballs and meatloaf.
•    While serving tacos, you have the best outcome on how to eat chopped vegetables. Tacos can be served with nicely chopped tomato, onion, dark green lettuce, corn, peas, black beans, whipped in salsa and guacamole.
•    You could also roast your chopped vegetables. Those that toast to the taste, while roasted, are yellow squash, eggplant, broccoli, cauliflower and zucchini.
The tips mentioned add to your cooking the zest of creativity, which finely and distinctly gives the pleasure of taste in eating chopped vegetables.
Photo Courtesy : Google
How To Eat Chopped Vegetables? – Chop It Up To Your Taste