When Egg Roll turned into a Vegetable Roll

20 Apr 2010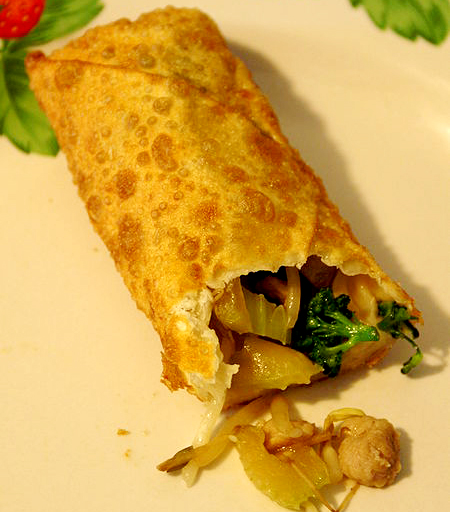 I had once betted with a friend of mine that making egg rolls is easy and that friend of mine had ctuallty baited me by throwing the challenge at me. Like the historical queen of Jhansi, I took up the gauntlet. There were no horses around, but such was the heat of the challenge that I called a rickshaw to drive me home immediately. My mother was busy with some work and when I started banging upon the door she came hurriedly to open the door.
Like a Tsunami I entered into the kitchen. My mother's eyes had reached the roof, her gracious daughter in kitchen! But I had no time to answer her queries and concentrated in the following actions:
Action 1
I pulled out one of the containers which contained maida. I took a container and added maida, salt, baking soda, and a bit of oil and water to knead a dough. Then I made balls out of it and rolled them into thin squares and rectangles because I could never make a circle. I added some oil to the griddle and cooked the flat bread.
Action 2
I broke two eggs and mixed the contents with salt and red chilli powder and kept it aside
Action 3
I chopped carrot, beans and cauliflower and boiled the vegetable for sometime and drained the water. 
Action 4
I heated some oil in a pan and then added chopped onions, ginger-garlic paste, salt and green chilli pieces. After the aroma of the fried mixture is felt I added the vegetable and stir fried it. When the vegetable mixture was cooked I left it to cool.
Action 5
I filled the bread with the vegetable mix, thinly sliced onion, sliced capsicum, sliced tomato, chopped green chillies chilli sauce and tomato sauce on top. Then I placed the entire preparation on a piece of plain paper and wrapped the bread with all the ingredients in it.
Finally, I called my friend to taste the tasty Egg Rolls.
P.S: After making three rolls and placing then on a plate, I realised I did not use eggs at all and therefore those are all vegetable rolls.
When Egg Roll Turned Into A Vegetable Roll