Band Gobi Matar Ki Sabzi
15 Oct 2013
Band gobi matar sabzi is a simple Indian dish made commonly by way of stir frying the vegetables in a kadai, and spicing up the dish with red chili powder and garam masala powder.
Ingredients
Cabbage

1

, chopped or cut (band gobi or patta gobi)

Green pea

150 Gram

Salt

To Taste

Red chili powder

1 Teaspoon

Turmeric powder

1 Teaspoon

Coriander powder

2 Teaspoon

Garam masala powder

1⁄2 Teaspoon

Vegetable oil

3 Tablespoon
Directions
MAKING
1. In the wok (kadai), add oil, and when hot add turmeric powder. When it starts to splutter, throw in the chopped cabbage, followed by the green peas.
2. Stir the cabbage and peas properly and cook on high heat for five minutes. Thereafter simmer and cook on low flame for 15 minutes.
3. Add spices and seasonings; mix well, and cook on low heat for another 5 minutes with the kadai covered.
Band gobi matar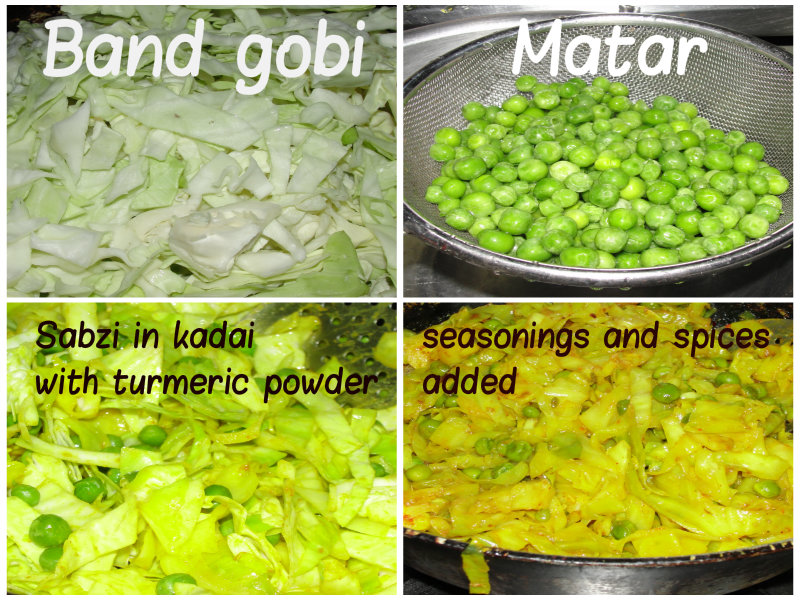 submitted by sumer at ifood.tv
4. Turn off the stove.
SERVING
5. Serve the sabzi with roti and curd during lunch or dinner time.
Things You Will Need
Wok (kadai)
Recipe Summary
Preparation Time:
20 Minutes
Story
Looking for something simple and quick to make this karva chauth? Do not want to go in for elaborate cooking? Then why not try this simple band gobi matar sabzi. A little tangy flavor can be imparted to the dish by using dry mango powder (amchur); though I have not used it here. Also, if you want to make the dish simpler and do not want to get up in between to stir the dish from time to time, you can simply place all the ingredients in a pressure cooker and steam cook the vegetable dish. However, I am fonder of the stir fry version and therefore cook the dish that ways.
Nutrition Rank
Nutrition Facts
Serving size
Calories 181 Calories from Fat 110
% Daily Value*
Total Fat 12 g19.2%
Saturated Fat 1.6 g8.1%
Trans Fat 0 g
Cholesterol 0 mg
Sodium 145.6 mg6.1%
Total Carbohydrates 16 g5.2%
Dietary Fiber 6.7 g26.9%
Sugars 6.2 g
Protein 4 g8.8%
Vitamin A 9.4% Vitamin C 104.1%
Calcium 8.7% Iron 11.5%
*Based on a 2000 Calorie diet
Band Gobi Matar Ki Sabzi Recipe, Band Gobi Matar