Masala Arbi
14 Oct 2013
Arbi (taro root) is an Indian vegetable commonly made in stir fried form and relished with naan or roti. However today I am sharing a masala arbi recipe with you made in tomato onion gravy. Do try the recipe given below. A perfect party dish for occasions like karva chauth, diwali, dussehra etc.
Ingredients
Taro root

250 Gram

, peeled and washed

Onion

1 Medium

, peeled and chopped

Tomato

2 Medium

, chopped

Salt

To Taste

Red chili powder

1⁄2 Teaspoon

Turmeric powder

1⁄2 Teaspoon

Coriander powder

1 Teaspoon

Garam masala powder

1⁄4 Teaspoon

Vegetable oil

1 Tablespoon

Water

2 Cup (32 tbs)
Directions
GETTING READY
1. In the mixer, add onions and tomatoes, and blend them in to a fine paste.
MAKING
2. In the cooker, add peeled whole arbi and 1.5 cup of water and pressure cook on high heat until you hear one whistle of pressure release. Thereafter, simmer and cook for another 5-7 minutes.
3. In the mean time while steam of the cooker escapes, add oil to the kadai (wok) and when hot, pour in tomato onion paste. Cook the masala for 5 minutes on high flame, and then simmer and cook for 10 minutes while stirring continuously.
4. Add spices and seasonings and mix well.
Arbi and masala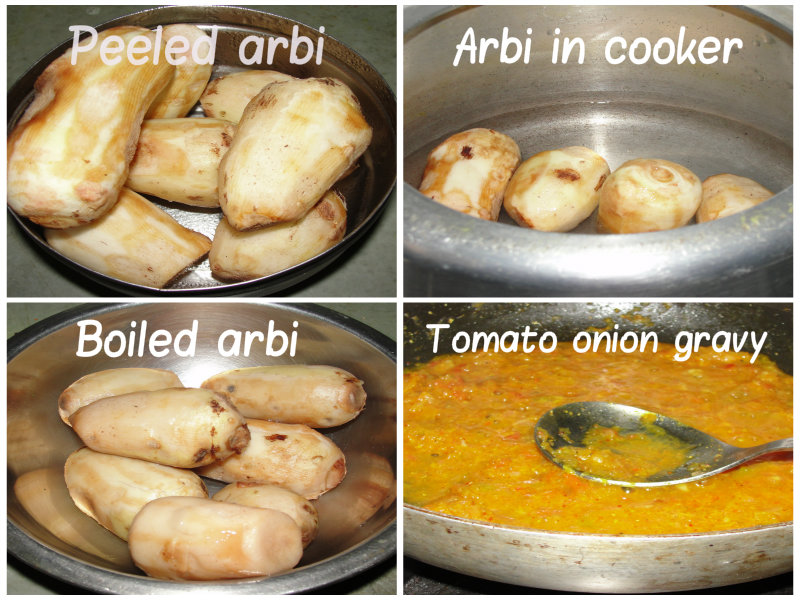 submitted by sumer at ifood.tv
5. Open the lid of the cooker, and take out arbi from it and add to the masala in the kadai. Add half cup of water and cook the masala arbi on high heat for five minutes. Thereafter simmer, and cook covered for another five minutes.
Arbi in masala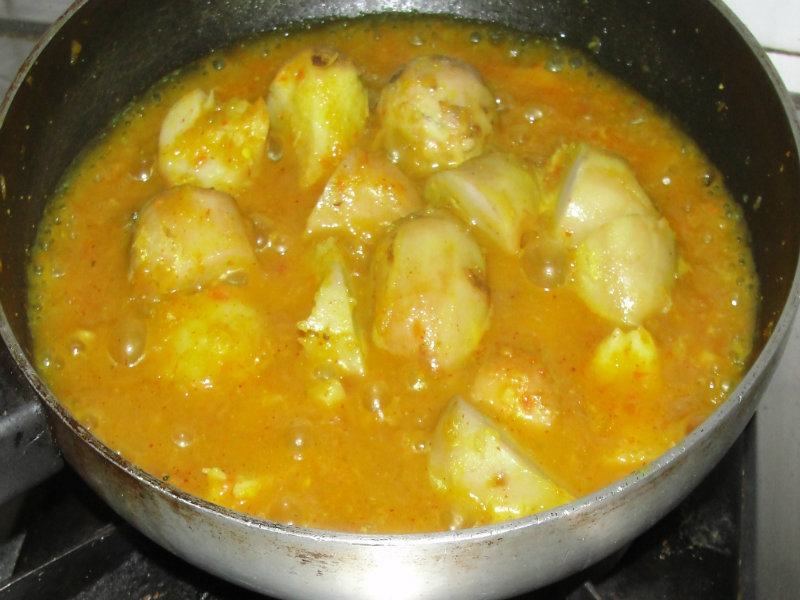 submitted by sumer at ifood.tv
6. Turn off the stove.
SERVING
7. Serve the masala arbi with roti and curd.
Things You Will Need
Mixer
Wok (kadai)
Pressure cooker
Recipe Summary
Preparation Time:
30 Minutes
Story
This karva chauth I wanted to make something new for dinner, which both I and my hubby could enjoy, after opening the fast. I opened my fridge and was glancing at all the ingredients kept in it, when my eyes caught hold of arbi. Usually I make spicy sookhi arbi; however this time I thought of making it a different way. I google searched for arbi recipes and came across the below given masala arbi recipe. I had never ever cooked arbi in onion tomato gravy, so did not know how it would taste. However I went ahead with the recipe and believe me it came out delicious! Must a try!
Subtitle:
Arbi in tomato onion gravy
Nutrition Rank
Nutrition Facts
Serving size
Calories 289 Calories from Fat 79
% Daily Value*
Total Fat 9 g13.9%
Saturated Fat 1.2 g6%
Trans Fat 0 g
Cholesterol 0 mg
Sodium 242.2 mg10.1%
Total Carbohydrates 50 g16.8%
Dietary Fiber 10 g40.2%
Sugars 8.1 g
Protein 5 g9.7%
Vitamin A 23.7% Vitamin C 51%
Calcium 11.7% Iron 12%
*Based on a 2000 Calorie diet
Masala Arbi Recipe, Arbi In Tomato Onion Gravy