This is a dish made of mashed potatoes and soaked sago (sabudana), where in the mashed material is shaped in the form of tikkis and deep fried in hot oil. I have slightly changed the recipe in which I have made the tikkis little crisp by toasting them on a non stick skillet. Read the detailed recipe given hereunder.
Ingredients
Potato

6 Large

, boiled and peeled

Sago

150 Gram

, soaked in water for 2 hours (sabudana)

Salt

To Taste

Red chili powder

1 Teaspoon

Vegetable oil

1⁄2 Liter

(For deep frying)

For greasing

Vegetable oil

1 Tablespoon

(For greasing)
Directions
GETTING READY
1. Cut the peeled boiled potatoes into pieces; add soaked sabudana (sago) to it. Add in the salt and red chili powder, and mash all the ingredients together with the help of your hand.
Ingredients for aloo tikki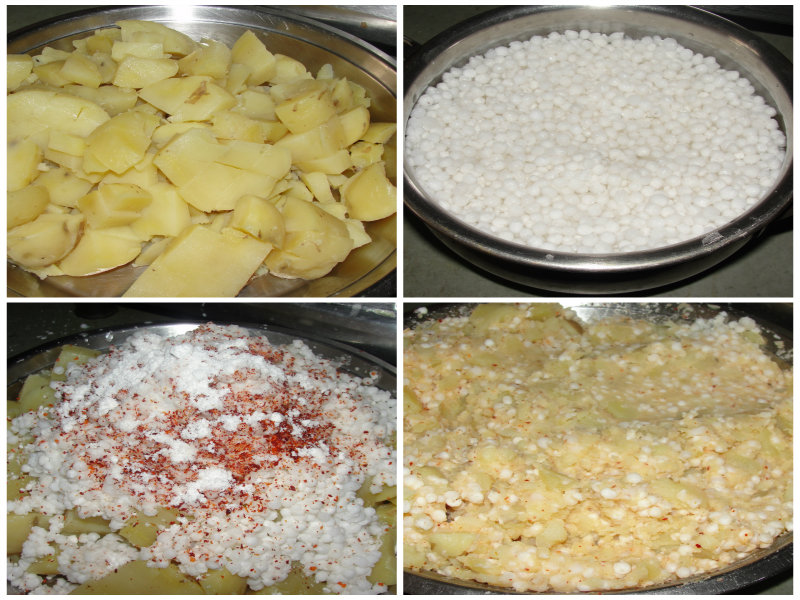 2. Now take a portion of the potato-sago mash, and make it in a form of a ball and slightly flatten it with the help of your hands. Repeat the same procedure with the entire potato-sago mash.
Tikki balls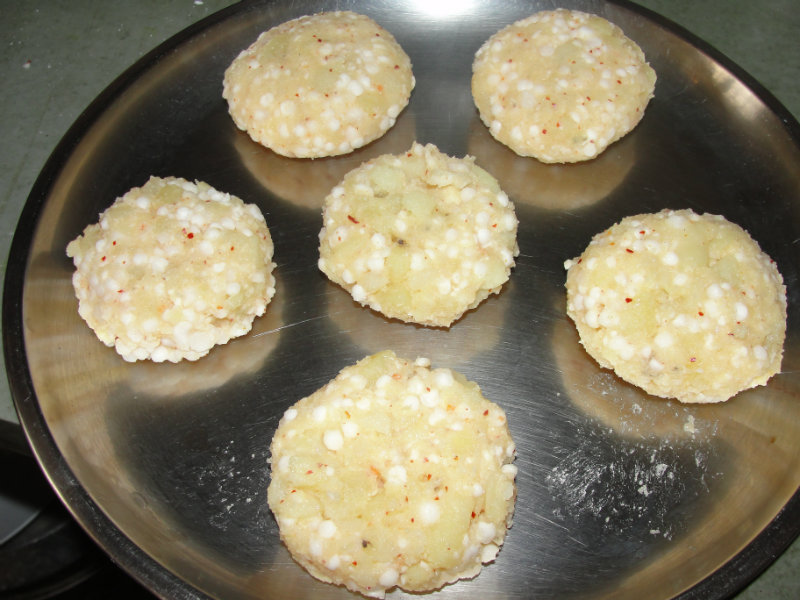 MAKING
3. In the kadai (wok) add oil, and when hot place, 2-3 tikkis at one time. Make sure to be very careful while placing tikkis in the kadai in hot oil, so that the oil does not spill over.
4. Flip over the tikkis frequently and cook both sides until slightly brown. Thereafter, take out the tikkis with the help of a slotted ladle and toast them slightly on a greased non stick skillet to make them crispy.
Tikki on skillet

5. Repeat the same procedure with all the tikkis.
6. When done, turn off stove.

SERVING
7. Serve the tikkis with green mint chutney or tomato ketchup during snack time.
Things You Will Need
Wok (kadai)
Slotted ladle
Non stick skillet
Recipe Summary
Preparation Time:
50 Minutes
Story
Last year, I and my friends decided to celebrate karva chauth together, wherein we planned to open the fast together at night and then have a grand feast. We all decided to cook something from home and then gather at a common place, so that the burden of cooking does not fall on one person. We all had decided in advance as to what each one of us would be bringing for the feast, and I was requested to bring aloo tikki as my friends had earlier tasted the tikkis and really liked them a lot. I usually make these tikkis during navratra fasts, by substituting normal salt with rock salt (sendha namak). However, this time I made them for karva chauth on special request of my friends, and subsequently got lot of appreciation! A nice change from commonly made dal chawal for karva chauth dinner! Must try!