Aloo Gobhi Matar ki Sabzi
2 Sep 2013
It is a classic combination of veggies in Indian stir fry preparations. Mild spicy flavor of tempering along with the natural flavors of veggies makes it altogether a yummy delight.
Ingredients
Cauliflower

1 Cup (16 tbs)

, cut up

Potato

1 Cup (16 tbs)

, diced

Green peas

1⁄2 Cup (8 tbs)

Mustard oil

3 Tablespoon

Tomato

1

, finely chopped

Green chili

1

, finely chopped

Cumin seeds

1 Teaspoon

Dried fenugreek leaves

1 Tablespoon

Turmeric powder

1 Teaspoon

Salt

To Taste

Garam masala

2 Teaspoon
Directions
MAKING
Main Ingredients
submitted by roli at ifood.tv1. In a wok, heat oil, add cumin, chili and fenugreek leaves, allow the seeds to splutter.Tempering Ingredients
submitted by roli at ifood.tv2. Add in cauliflower, potato, peas, tomato, turmeric and salt, cook covered until potatoes turn tender, stirring occasionally. Before and After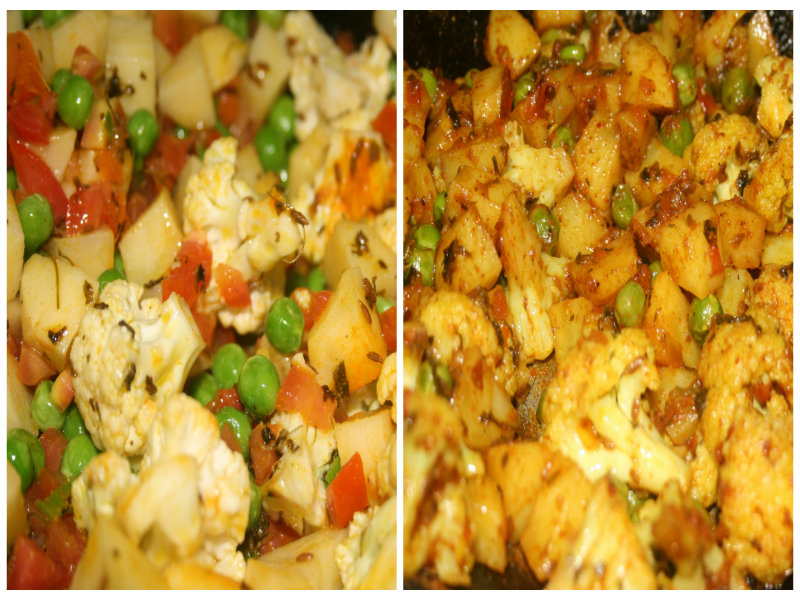 submitted by roli at ifood.tv3. Uncover, season with garam masala, stir fry for another 10 minutes.here it is
submitted by roli at ifood.tv
SERVING
4. Serve with roti or rice and dal
Recipe Summary
Preparation Time:
15 Minutes
Story
It is difficult to pick your favorite when it comes to food, and I am sure many of you will agree. But this, no doubt, is my favorite Indian sabzi dish. Nothing can beat this awesome combination. Generally, people add tomatoes to this type of preparations towards the end of cooking process. The reason is, it takes longer time to cook, if you add a sour or tangy ingredient. But still I prefer adding my tomatoes in the beginning, as I want the juice of the tomato to be used up in the process of cooking...and that is what makes this recipe different from other gobhi ki sabzi recipes. The cooking time may be slightly longer, but the outcome is worth the time invested.
Nutrition Rank
Nutrition Facts
Serving size
Calories 392 Calories from Fat 218
% Daily Value*
Total Fat 25 g38.1%
Saturated Fat 2.8 g14%
Trans Fat 0 g
Cholesterol 0 mg
Sodium 372.4 mg15.5%
Total Carbohydrates 39 g13%
Dietary Fiber 7.3 g29.4%
Sugars 6.2 g
Protein 8 g15.9%
Vitamin A 19.8% Vitamin C 136.9%
Calcium 12.9% Iron 25.6%
*Based on a 2000 Calorie diet
Aloo Gobhi Matar Ki Sabzi Recipe