Kathirikai Kichadi
28 Aug 2013
This is a yum side dish for idli or dosai and is similar to the thakkali kichadi recipe I posted earlier. You can try this instead of chutneys for a change.
Ingredients
Brinjal

6 Medium

, chopped

Onion

2 Medium

, chopped

Tamarind ball

1 Small

(3 gems candy size)

Green chili

2

, slit lengthwise

Red chili

1

, broken

Mustard seeds

1 Teaspoon

Urad dal

1 Teaspoon

Curry leaves

1 1⁄2 Teaspoon

Coriander leaves

2 Tablespoon

Water

400 Milliliter

Corn flour

1 Teaspoon

Oil

2 Tablespoon

Salt

To Taste
Directions
GETTING READY
1. Put the chopped brinjals in a bowl filled with water. This will help keep the vegetable from turning black.
kathrikai kichadi1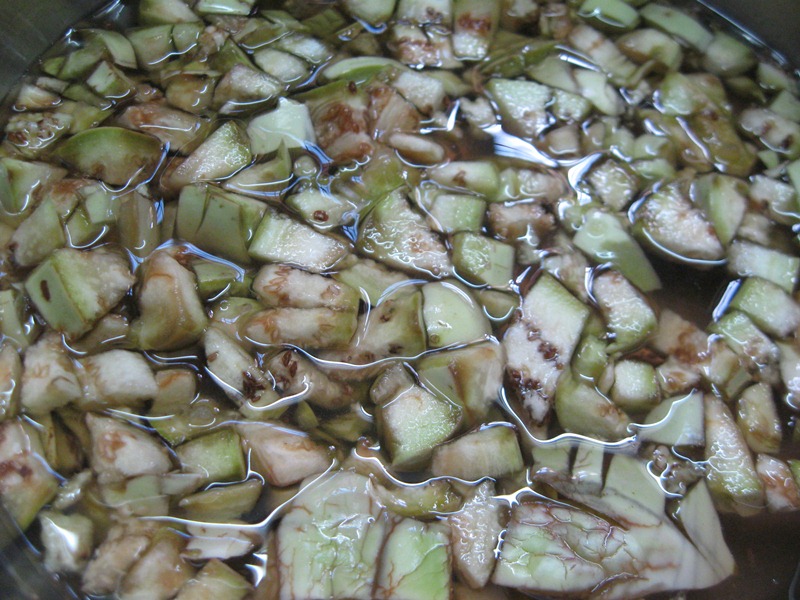 submitted by Radhika Augustus at ifood.tv
2. In a frying pan, sputter mustard and urad dal with 1 teaspoon of oil. Fry red chilies and curry leaves. Keep it ready.
3. Soak tamarind in 100 ml water to make tamarind water. Filter and keep ready.
4. Add a teaspoon of cornflour to a tablespoon of water. Mix without clumps and keep ready.
MAKING
5. Take the pressure cooker, add oil, and heat.
6. Throw in onion and green chilies. Saute. Add brinjals. Saute well.
kathrikai kichadi2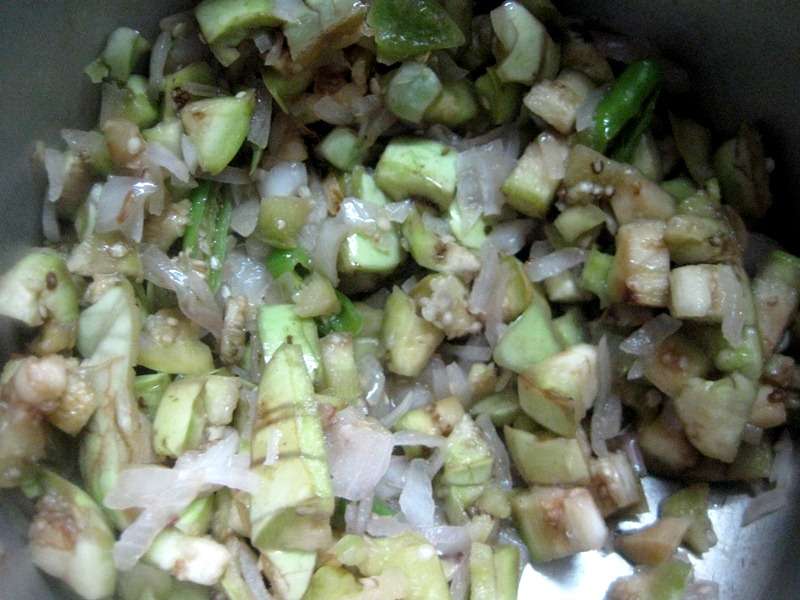 submitted by Radhika Augustus at ifood.tv
7. Pour tamarind water along with 300 ml water. Sprinkle salt. Close the lid and pressure cook for 2 whistles.
8. Once it cools, save the water from the cooker in a container and mash the brinjals well. Pour the retained water into the brinjals again and bring it to a boil. Add the cornflour mix to the dish. Mix it well. Add the tempered mixture. Garnish with coriander and switch off stove.
kathrikai kichadi3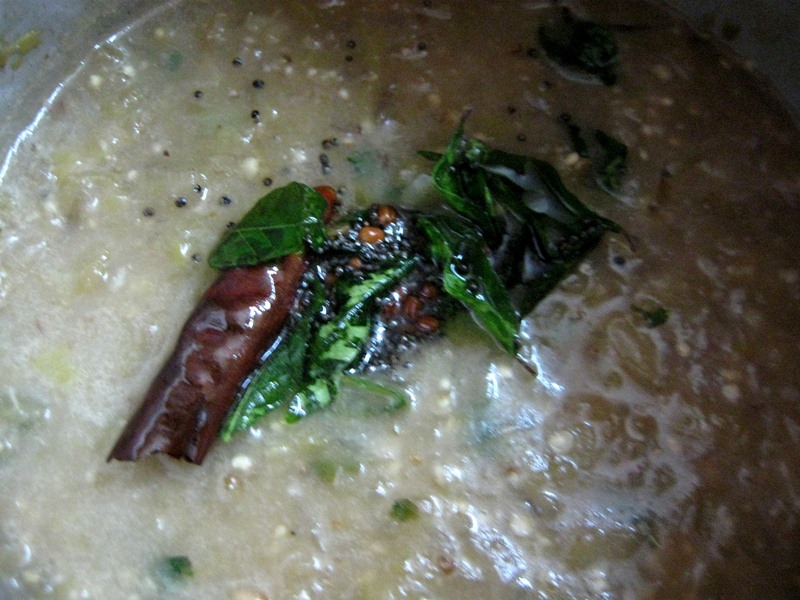 submitted by Radhika Augustus at ifood.tv
SERVING
9. Serve hot as a side dish for idli or dosai.
Things You Will Need
Pressure cooker
Frying pan
Recipe Summary
Preparation Time:
15 Minutes
Story
I simply love this dish. Infact, this is the only brinjal dish that I liked as a child. kathirikai kichadi with hot hot idlis will disappear from my plate in no time (nothing has changed now, for that matter) :) I like to add a lot of this kichadi over idlis, add a teaspoon of oil, and have it. I know, I know, oil means cholesterol - but I just can't help adding it! Pressure cooking it makes the dish very soft and mashable and makes it kid friendly too. If you'd like, feel free to add an extra chili if you want it really spicy. Do make this simple superb dish, and I am sure you will begin to like it!
Nutrition Rank
Nutrition Facts
Serving size
Calories 204 Calories from Fat 63
% Daily Value*
Total Fat 7 g11.1%
Saturated Fat 0.98 g4.9%
Trans Fat 0 g
Cholesterol 0 mg
Sodium 93.1 mg3.9%
Total Carbohydrates 35 g11.6%
Dietary Fiber 16.3 g65.2%
Sugars 14.1 g
Protein 6 g11.8%
Vitamin A 12% Vitamin C 49.3%
Calcium 7.3% Iron 8.3%
*Based on a 2000 Calorie diet
Kathirikai Kichadi Recipe