Spicy Inji Curry
28 Aug 2013
Literally it translates to ginger curry. Here ginger is the hero. It is very flavorful with sweet, sour and spicy playing on the taste buds. It is usually used as a condiment with rice and curry, but can also be relished with dosa and idly. Also the presence of ginger makes it very good for the health of the stomach and aids in digestion.
Ingredients
Ginger

1 1⁄2 Cup (24 tbs)

, peeled, chopped finely

Green chilli pepper

10

, chopped

Fenugreek seeds

2 Teaspoon

Jaggery

1⁄2 Cup (8 tbs)

(to taste)

Salt

To Taste

Tamarind pulp

1⁄2 Cup (8 tbs)

Red chilli powder

2 Teaspoon

(to taste)

Turmeric powder

1 Teaspoon

Water

2 Cup (32 tbs)

, divided

For tempering

Oil

1 Tablespoon

Mustard seed

2 Teaspoon

Dried red chili pepper

3 Medium

, torn

Curry leaves

15
Directions
Main Ingredients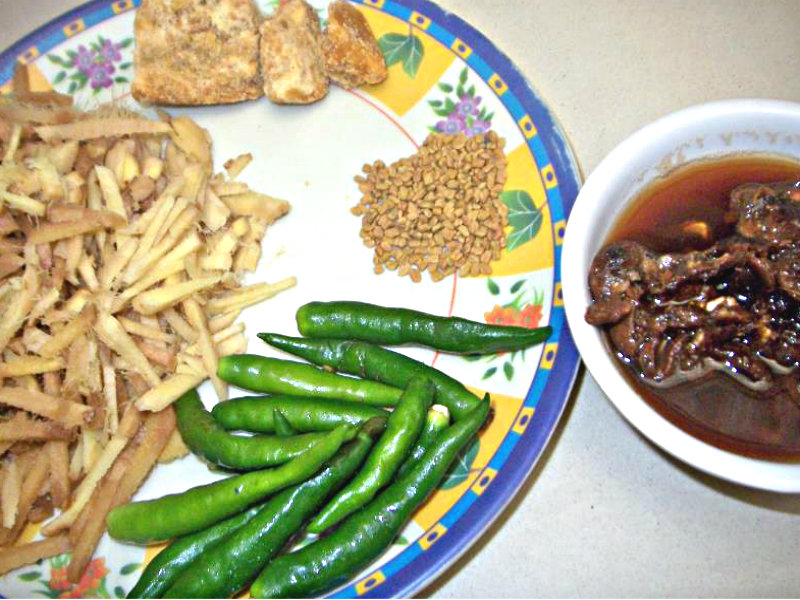 submitted by seemasatheesh at ifood.tv
GETTING READY
1. In a bowl, add tamarind pulp and water. Mix well till dissolved (if using tamarind, then soak it in 2 cups of warm water for around 30 minutes and squeeze out the pulp. Strain it). Set aside.
2. In a frying pan dry roast the ginger pieces till brown and fully dry (if it is sticking to the bottom of the pan, then add few drops of oil). Set aside.
Roasting Ginger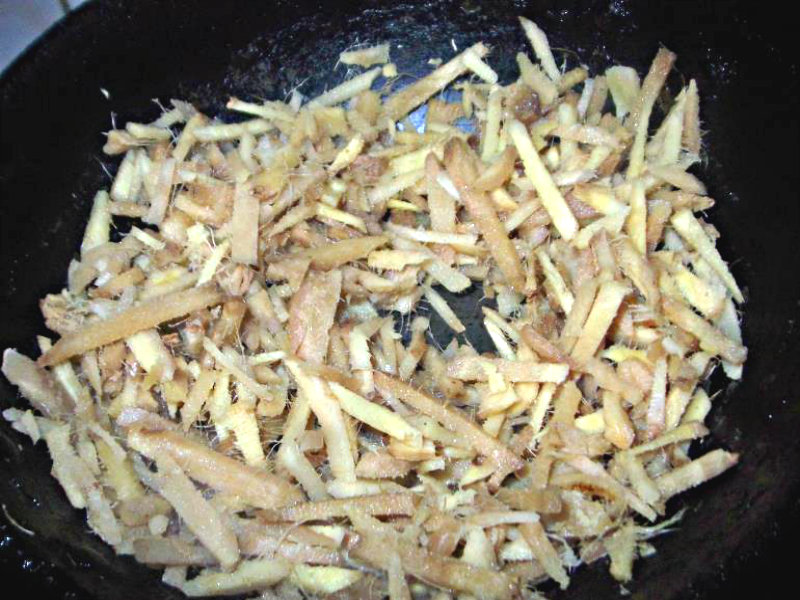 submitted by seemasatheesh at ifood.tv
3. In the same pan, dry roast the fenugreek seeds till dark brown and fragrant. Set aside.
4. In a blender put the roasted ginger and fenugreek seeds and grind them coarsely.
MAKING
5. In a saucepan, pour the tamarind water, green chillies, red chilli powder, turmeric powder and salt to taste. On medium heat bring it to boil and let it simmer for another 20 minutes or till it reduces a little.
6. Add the ground ginger-fenugreek powder and jaggery and continue to simmer for another 20 minutes. Stir occasionally. Once it is thickened to soup consistency, turn off the heat.
7. In a small frying pan, heat oil. Add mustard seeds and let them splutter. Add the red chillies and curry leaves. Saute for a minute and pour it immediately into the ginger curry. Close with a lid.
Finished Inji Curry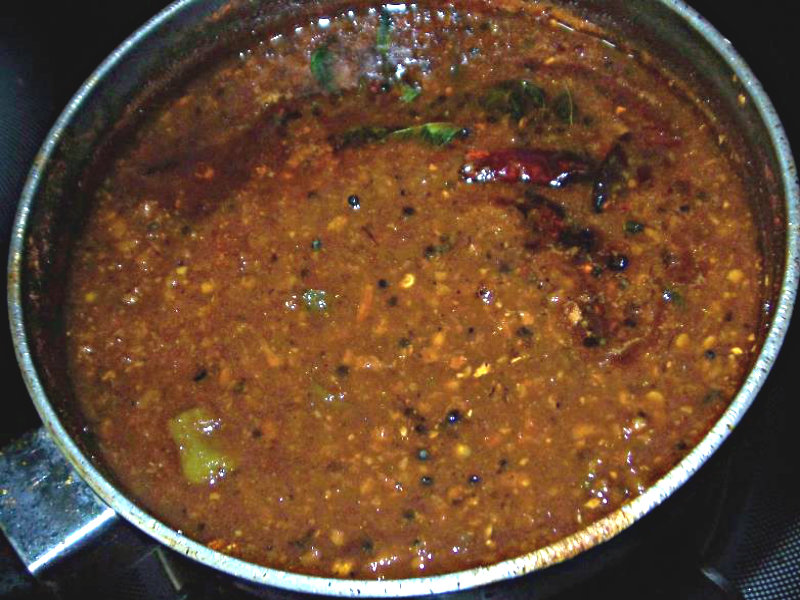 submitted by seemasatheesh at ifood.tv
SERVING
8. Serve the inji curry with steamed rice and any curry of choice or with dosa, idly or parathas or store it in jars in the refrigerator for up to a month.
Recipe Summary
Preparation Time:
20 Minutes
Story
Onam season is nearing and every household in Kerala begins their preparations. So does mine. I usually start with the inji curry or the ginger curry as it takes time for preparations and can be stored for many days. The best part is that my mother is here and she makes awesome inji curry. Usually ginger pieces are simmered in jaggery and tamarind, but most people do not like to bite into ginger pieces, so it goes waste. The recipe my mom makes has ginger hidden, but shows off itself in flavor. Though spicy, Appu loves this dish...especially with curd, another favorite of his. It is fun watching him have a spoon of curd rice, dip his finger in this curry and lick it...It is an integral part of the Kerala Sadya, but I am very sure it will taste great with parathas also...So here is what we will need!!
Nutrition Rank
Nutrition Facts
Serving size
Calories 55 Calories from Fat 13
% Daily Value*
Total Fat 1 g2.3%
Saturated Fat 0.2 g1%
Trans Fat 0 g
Cholesterol 0 mg
Sodium 40.3 mg1.7%
Total Carbohydrates 11 g3.6%
Dietary Fiber 0.91 g3.6%
Sugars 7.2 g
Protein 0.79 g1.6%
Vitamin A 6.6% Vitamin C 28.8%
Calcium 1.6% Iron 4.3%
*Based on a 2000 Calorie diet
Spicy Inji Curry Recipe