Chhath Pooja: An Eco-friendly Food Festival !
5 Nov 2007
Chhath Puja is one of the holiest festivals in Hindu Religion. It is especially celebrated by people from Bihar. It is celebrated six days after Diwali.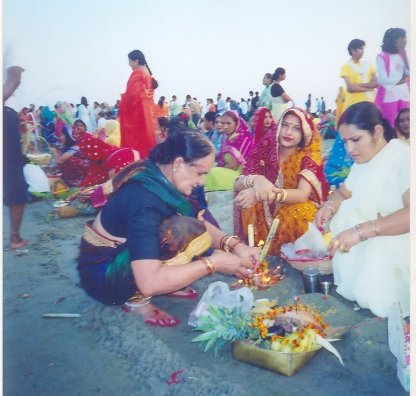 Devotees are gearing up for Chhath Pooja!
Chhath Puja primarily involves the worship of Sun God, who is the source of all life forms in the world. People of almost all community worship Sun in one form or the other but Chhath Puja in India has no parallel in the world.
For Chhath Puja, people have to keep fast until they pay homage to the rising Sun God on the banks of a river.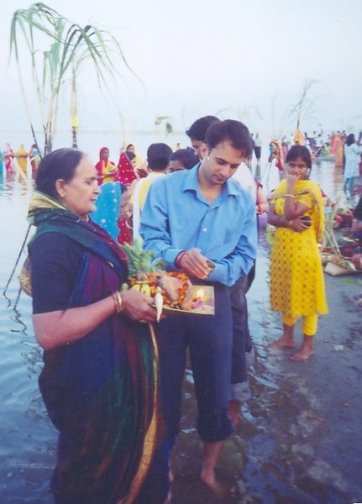 Devotee offering 'Arghya' to Sun God!
In the present scenario of global warming and pollution,Chhath Puja has great significance as it is the worship of the most important element of nature,the Sun. Chhath is also an eco-friendly festival as only unprocessed natural products are used as puja materials.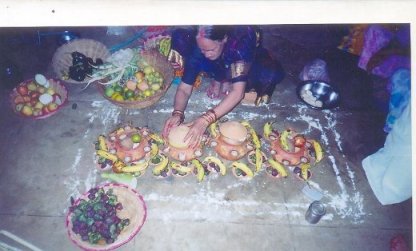 Eco-friendly Prayer with fruits !
Now coming to the food associated with Chhath Puja. Like other Hindu festivals, people keep fast during Chhath too. Fruits like apples, bananas, guavas, oranges and coconuts are used as offerings during Chhath Puja. Sugarcane is also an important offering in Chhath. The delicacies prepared as prasad include Puri,Thekua, Khajur etc.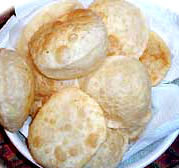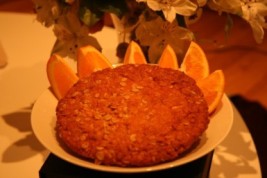 Basically Chhath Puja is the worship of Nature and it is quite unique. Chhath is celebrated with great enthusiasm, joy and devotion.
Chhath Pooja: An Eco-friendly Food Festival !