Top 10 Weirdest Restaurants Of The World
3 Jul 2012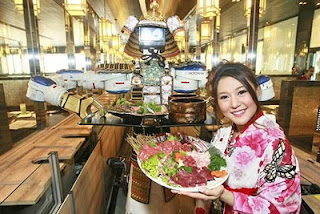 Dubai may be home to the world's tallest restaurant but it ain't home to the weirdest! That is what this blog is about – the Top 10 weirdest restaurants in the world. And if you think being weird makes you an outcast, think again. The popularity of these restaurants is growing despite their weird factor and people are enjoying dining differently (read weirdly!). So, take a journey through some of the weirdest dining environs of the world.
1) Hajime
This restaurant is located in Bangkok, Thailand and here eating is broken down into scientific parlance. This is a high-tech restaurant, where you order on touch-screens and there are robot waiters to serve you. Never mind the fact that the robots are dressed as samurais, they are known to break down into a jig every once in a while. What's more! Your order will arrive uncooked and you are expected to cook your own food with the ingredients provided on the steamers and grills provided to you at your tables. How is that for some self-service?
2) Cannibalistic Sushi 
This Japanese restaurants has taken inspiration from the Hannibal Lector stories as well as the famous sushi scene of the movie "Sex and the City." Diners are served an edible version of the classic board game, 'Operation'. A corpse made of dough and filled with organ-shaped sushi, is put on your table and you as well as other guests have to dissect through this corpse and take out sushi to eat. The corpse is complete with red sauce leaking out just like blood. What's more! There are male and female corpses available for you to order. Only thing, never go there alone because you will need assistance for this operation.
3) Carton King
This restaurant in Taichung, Taiwan, is as weird as it is environment-conscious, so it rolls both ways. The designer of this restaurant has employed some degree of cardboard creativity in this restaurant, which is one-of-a-kind. You are invited to walk through a cardboard garden, complete with trees, flowers, plants, bumblebees, made out of cardboard. There are cardboard chairs, tables, serving trays, bowls, and cups. The only thing that is not made of cardboard is the food and thank god for that!
4) Disaster Café 
This dining experience is in Spain and if you are a sucker for shaky things, this is one experience you should not miss at any cost. The café, located in Lloret de Mar simulates earthquakes of upto 7.8 magnitude on the Richter scale. During the earthquake, the customers have to balance not only their dishes but also their appetites. The fake quake is accompanied by lights out, screaming guests, and trembling ground. The guests are required to duck under the table in case things get a bit too shaky. The food is served on heavy-weight plates, which assist in times of quake, so you do have some help there.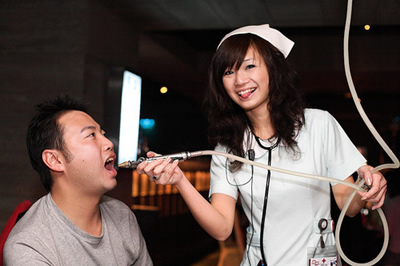 5) DS Music
This one is weird one in a so-so sense. Don't be misled by the name because it has nothing to do with music (which leads us to the question, why music in the name then?) Well, this Taiwanese restaurant is teeming with uniform-clad nurses serving dishes of hospital food, which is actually a fusion of Japanese, Chinese, and Thai cuisines. The restaurant is lighted with X-ray machines and in case of large groups of guests, the hospital, err restaurant's intensive care unit is thrown open, where seating is hospital style and there are wheelchairs in which guests can recline while being fed through IV drips.
6) Ka-Tron Flying Chicken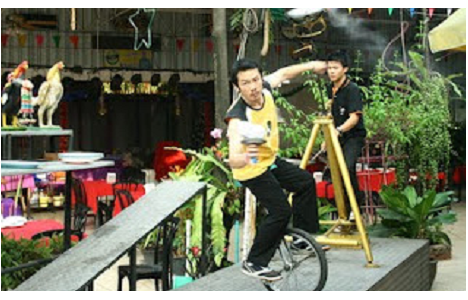 This Thai restaurant is known for its chickens but not in the way you think. The chickens, cooked already, are set on fire, and then hurled across to waiters, who are themselves on unicycles. The waiters are carrying skewers, not in their hands, but in their mouths and they catch the chickens on these skewers. After catching the catch, the waiters serve these fouls on fire to the guests over a bed of salad. That is weird, alright!
7) Les Princesses
This Canadian restaurant has gone one up on "Hooters" and other restaurants of the ilk. It has waitresses in the buff. For those, not yet understanding the concept, the waitresses are nude while serving the guests. Well, there is really nothing much to say after this and we know, some of you may not actually find it weird at all, just someone's dream come true, right?
8) Hello Kitty Sweets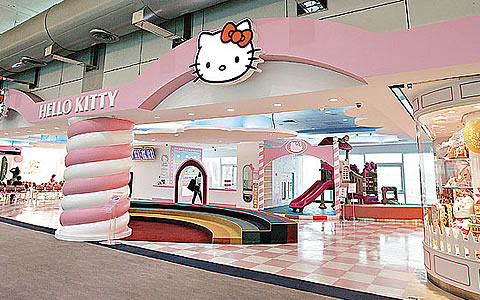 Southeast Asia seems to be taking the cake as far as weird restaurants are concerned. Now, this one is located in Taipei, Taiwan, and it is the perfect paradise for the girls. This restaurant has waitresses serving guests seated inside booths shaped after the Hello Kitty head. The restaurant is decorated in bows, lace, and meows and the dishes are in the shape of the Hello Kitty doll. So much pink would definitely make you puke!
9) Brainwash
This Californian restaurant is a boon for people who do not find time to do their laundry during the week. They can just pick up their laundry basket full of dirty clothes, head to this restaurant, put up their clothes in the Laundromat while enjoying a tasty meal inside the café. The café serves breakfast, lunch, and dinner and the guests are encouraged to wash their clothes as well as wash down their hunger, all at the same time. The food is also themed on washing, such as "wash load nachos, flat iron chicken sandwich, and wash day blues pancakes." The restaurant has on offer professional laundry service, dry cleaning, and even folding services.
10) Count Dracula Club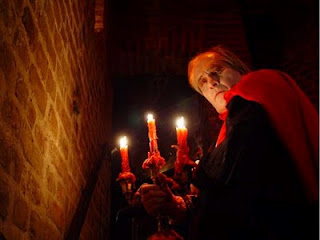 This restaurant in Bucharest, Romania, is all about being spooky. As the name suggests, the theme is vampires and all that is depicted in the blood-stained walls, capes, white face makeup for guests and dim candlelight. This is got to be one of the scariest restaurants of the world. You get to dine with Bram Stocker's Dracula, who, dressed as a Count, roams around among the guests. The restaurant is full of haunted spaces like the medieval room and the hunting room. Besides, there is an alchemical bar, where hands fly out of walls and human heads, impaled, are decorated along.
Well, that is it about the weirdest restaurants of the world. In case you have something to add to this list, do write in with your comments.
Image Courtesy: oliver-info-sharing, jrgoloco, brianstaiwan, travel.ezinemark, fwmail.teenee, siambuzz, gotsmile, purple-me.tumblr, members.virtualtourist, weirdestrestaurants
Disclaimer: The image copyrights belong to its owner. The usage of the image in this blog is purely for the entertainment purpose. No copyright infringement intended.
Top 10 Weirdest Restaurants Of The World