Fatburger Menu - The Last Great Hamburger Stand
4 Nov 2011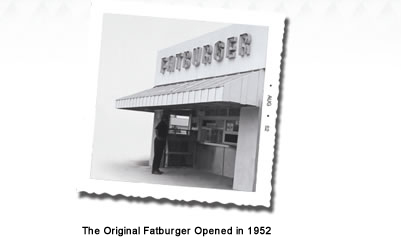 You must be wondering why would someone call their products "Fat", such an unflattering name. Well, there is a reason behind this. When Lovie Yancey created the biggest, juiciest hamburgers, way back in 1952, she couldn't think of any other name but 'Fatburger." Her instinct remains strong even half a century later as customers continue to discover taste of the fresh lean beef, unlike the frozen patties, served elsewhere. Going through the restaurant Menu will help you understand the phenomenon called Fatburger:
Burgers
Let it be known that Fatburger offers its burgers in five different sizes, which are:-
S for Small (Baby Fat)
M for Medium (Fatburger)
L for Large (Kingburger)
XXL for Double Large (Double King)
XXXL for Triple Large (Triple King)
The burgers that you can order are all made with fresh, 100% pure lean beef, grilled to perfection and offered to you on a toasted bun along with iceberg lettuce, tomatoes, onions, and mayo.
Sandwiches

The sandwiches on offer at Fatburger are in three varieties: chicken, turkey and veggie. You can choose from among the following:
Crispy Chicken Sandwich
Spicy Chicken Sandwich
Turkeyburger
Veggieburger
Sides
The sides offered on Fatburger menu are all tasty, though there is not much choice here. All you can choose from among is:
Homemade Onion Rings
Chili Cup
Fat Fries
Skinny Fries (ha, ha, ha!)
Chili Cheese Fat Fries
You can enjoy your meal here with varieties of milkshakes in flavors like chocolate, vanilla, strawberry, etc.
Image Courtesy: fatburger.com
Fatburger Menu - The Last Great Hamburger Stand