Steak 'N Shake Menu - Celebrate The American Spirit
3 Nov 2011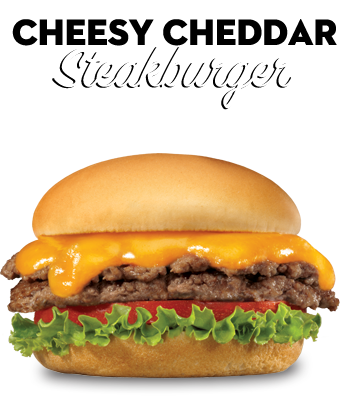 Steaks and shakes are two most popular food items in America and both are together the mainstay of the Steak 'N Shake Menu. If you love your steak and enjoy your milkshake, then this is the place to be. Take a look at what the menu offers:
Steakburgers
The Original Steakburger: Double steak goes into making this burger, with each steak covered in loads of melted Wisconsin Cheddar. The burger is served with lettuce and ripe tomatoes, and fries.
Guacamole Steakburger: The Guacamole brings a different taste altogether to this burger, especially with two hot-off-the-grill Steaks, covered in cheese and your choice of toppings and served atop a toasted bun with cilantro, squeezed lemons, and spicy chipotle mayo.
Milkshakes
Classic Milkshakes: Need we say more about these classic beauties? These come in all classic flavors like banana, chocolate, vanilla, and strawberry.
Side by Side Milkshakes: An innovative delight from the Steak 'N Shake restaurant, this combines any two flavors of hand-dipped milk shakes together in a glass, side by side. Apart from being a visual delight, these milkshakes are a visual delight too.
Genuine Chili 
3-Way Chili: This 3-way Chili is made up of chili, extra chili beef, and special chili sauce, served atop spaghetti. A joy for your taste buds.
Chili Deluxe: Another chili blast for the chili-lovers, made with genuine chili, chili beef, chili beans, and a special seasoning. This deluxe offering is also served with fresh onions and shredded Cheddar and Jack cheeses.
Classic Melts
Frisco Melt: The sweet and tangy Frisco sauce lends a different flavor to the steakburgers, covered in American and Swiss cheeses. Eat it with fries.
Pepperjack Melt: Two steakburgers, melted Pepperjack cheese, lettuce, ripe tomatoes, grilled onions, jalapenos, and mayo served on sourdough bread. Just the right spice, to be enjoyed with fresh fries.
Steakburger Shooters
Thick & Hearty Shooters: The shooters engulf an incredible flavor in themselves, thanks to the special sauces used to prepare them. The thin 'n crispy fries are the right side to enjoy with Shooters.
Ketchup 'N Onion: The patrons love it simply because the onions complement the ketchup and lend this steakburger shooter an mazing taste.
Signature Steak Franks
Cheesy Cheddar: The Franks are plump, juicy, and perfectly cooked. Grilled onions, loads of melted Wisconsin Cheddar complete this Cheddar Frank.
Chicago Style: The taste of the Windy City is all-prevalent in this all-beef frank, which is topped with mustard, onions, pickle, sport peppers, tomatoes, and eaten with fries.
Salads
Apple Pecan Grilled Chicken Salad: Crisp lettuce combines with gala apples, dried cranberries, mandarin oranges, candied pecans, and a grilled chicken breast. All this delicious fare is served with reduced fat Berry Balsamic Vinaigrette.
Southwest Grilled Chicken: The Southwest flavor is reflected in the crispy tortilla strips, fresh pico de gallo, black beans 'n corn, shredded Cheddar Jack cheese, and grilled chicken, all drizzled with chipotle sauce. This salad is best enjoyed with ranch dressing.
The Steak 'N Shake Menu salutes the steak-lovers of America and if you want to celebrate this spirit, do pay a visit.
Image Courtesy: steaknshake.com
Steak 'N Shake Menu - Celebrate The American Spirit