Cafe Rio Menu - Delicious, Award-Winning Food
3 Nov 2011
One thing that is most sure about the Cafe Rio dining experience is that with its delicious and award-winning food, which will "leave you craving for more!!" The claim is ably supported by the Cafe Rio Menu, which offers high-quality, fresh food without using freezers or microwaves. Check out the menu for yourself:
Cafe Rio Menu
Appetizers
The starters section on the Cafe Rio Menu is simply delicious! All the Mexican goodness is unloaded on your table in the form of Chips and Salsa, Fresh Guacamole and Chips, and Chile Con Queso and Chips. You will get stuck on the appetizers while not wanting to start you main course.
Tostadas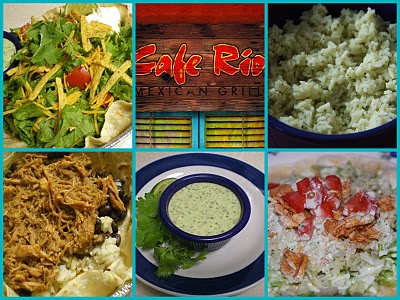 A crisp corn tortilla is loaded with choicest of fillings and topped with cheeses of your choice, which you can enjoy with the Cafe Rio's in-house Creamy Tomatillo or Cilantro-Lime Vinaigrette dressing. Among the fillings, you have six choices: Chile Roast Beef, Chicken Breast, Pork Barbacoa, Fire Grilled Steak, and Grilled Chicken Breast.
Enchiladas
The chefs claim that their enchiladas are made with fresh, corn tortillas, and are served with a generous serving of Green Chile rice and black or pinto beans. You may choose the fillings out of: Cheese, Chile Roast Beef, Chicken Breast, pork Barbacoa, Fire Grilled Steak, and Fire Grilled Chicken Breast. There are also a variety of sauces to choose from: San Antonio Red Chile, Santa Fe Green Chile, and El Paso Tomatillo.
Salads
The goodness of fresh flour tortillas accompanies every serving of salad but that is not all. With variety of salads (chile roast beef, chicken breast, pork barbacoa, fire grilled steak, and fire grilled chicken breast), you get a lot of other ingredients too. These are Mexican Cheese, rice, black or pinto beans, crisp romaine lettuce, pico de gallo, guacamole, and cotija cheese.
Tacos, Burritos, Quesadillas
The fillings remain the same as in tostada, enchiladas, and salads. However, the corn and flour tortillas are not overloaded with different flavors, just a few, which enhance the taste of the fillings.
Desserts
Every meal demands a good dessert to end and so believe the Cafe Rio owners too. You can choose out of Coconut Caramel Flan, Cafe Rio's Famous Tres Leches, Fresh Lime Pie, and Chocolate Cheese Flan with Berries. It is bound to leave a sweet aftertaste in your mouth.
The Cafe Rio Menu is basically a celebration of the Mexican cuisine and tastes. Go there if you are in the mood to try everything Mexican but those who demand variety in their food, they need to look somewhere else.
Image Courtesy: tiershandjosh.blogspot.com, orangecountyatoz.wordpress.com, whatsfordinnerguide.blogspot.com 
Cafe Rio Menu - Delicious, Award-Winning Food