Big Boy Menu - Home Of Original Double Decker
3 Nov 2011
Most of you would think that the double-decker hamburger is the only contribution made by the Big Boy restaurant to the gastronomic world. Well, you couldn't be more wrong. This hamburger was just the beginning of a long journey of the Big Boy restaurant into the big bad world. The popularity of this hamburger and several other creations on the Big Boy Menu continues to rise. The Big Boy character, now a famous animated figure, was created by a regular customer to one of the restaurant outlets, who was also a movie studio animator. Check out the Big Boy Menu and let us know your views on this:
Big Boy Menu
Breakfast
Light Bites: Start your day with these light bites, which are oatmeal, topped with cinnamon, apple, and other fruits. Grilled Pastry and fresh fruit is another healthy option in this section. You may also go for biscuits and gravy while for the more health-conscious people, granola parfait with fresh fruit can be a good option.
Griddle Classics: We know you like to start your day with a good dose of griddle goodies. The Big Boy chefs realize too. That is why you have much to choose from:- Belgian Waffle, Strawberry Belgian Waffle, Fruit-topped French toast, Hot cakes, and Classic Combo.
Potato Pancakes: Pancakes are another breakfast favorite and Big Boy offers them in plain potato, stuffed potato, and Santa Fe Garden stuffed potato pancake varieties.
Omelettes: You can choose from ingredients like various cheeses, veggies, and meats to create your own omelettes. For those who can't make up their mind, there are three options: Farmers Omelette, Denver Omelette, and Southern Omelette.
Appetizers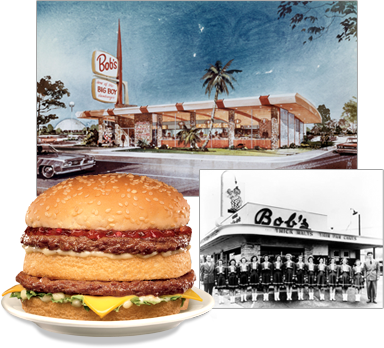 The appetizer section of the Big Boy menu is limited (probably because their main course sections are loaded enough!). But that doesn't mean you need to compromise on the taste factor. The food items available on this section are as follows: Chicken Tender Starter, Mozzarella Cheese Sticks, Chicen Quesadilla, BBQ Pulled Pork Quesadilla, Chili Cheese Fries, and Onion Rings.
Salads & Soups
The salads to be enjoyed include Buffalo Chicken Salad, Fiesta Salad, Turkey BLT Salad, and Chicken Caesar Salad. The soups are equally tasty and you can choose from among: Loaded Chili Bowl, Endless Soup, Salad & Fruit Buffet.
Burgers
This is the mainstay of the Big Boy Menu and what made this restaurant famous all over. Right from the Classic Big Boy (two fresh seasoned patties with cheese, lettuce, and special sauce). The other versions of the Classic burger are California Big Boy, Ohio Big Boy, and Super Big Boy. Other burgers presently being offered on the menu are Bob's Cheddar Steakhouse, BBQ Bacon Cheeseburger, Garlic Mushroom & Swiss, and Kitchen Sink.
Sandwiches
Whether you want lean ham, pulled pork, corned beef, slow-roast turkey, fried pork or fried fish, Big Boy sandwiches will live up to your expectations. You can enjoy these sandwiches with fries, various dressings, and on a variety of breads.

 
Dinner Favorites
Wanna take your family or friends out for a good dining experience? Go to the Big Boy because the dinner favorites on its menu are really something to talk about. Out of the Homestyle Dinners, you can choose meatloaf, pot roast, country fried steak, and fried chicken. In seafood, you have fried shrimp, lemon pepper cod, and sirloin steak and shrimp. The Big Boy Classics on dinner are fish & chips, chicken tender, parmigiana, and pasta.
The dining options on the Big Boy menu are endless and you can really have a good time dining out here.
Image Courtesy: bigboy.com 
Big Boy Menu - Home Of Original Double Decker