Pancake House Menu - A Casual Dining Experience
2 Nov 2011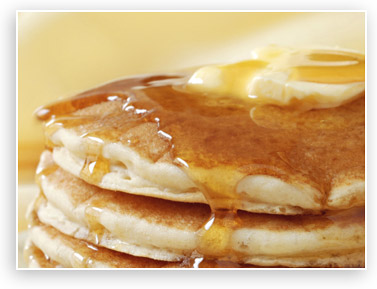 The Pancake House is recognized throughout Asian continent as a "casual-dining restaurant" where Filipino hospitality is combined with international products and service. The same is reflected in the menu of this restaurant, which is briefly described below:
Pancake House Menu
Pancakes
Classic Pancake: The only way to enjoy the gooey goodness of these classic homemade pancakes is to eat these with whipped butter. Believe us, you won't want anything else after this!
Banana: The goodness of bananas is recreated inside these pancakes as ripe bananas are directly crushed into these and the whole thing is topped up with syrup. Amazingly yummy, we tell you!
Corn: Sweet corn kernels are rightly added to the batter on the griddle and you can enjoy these golden pancakes to your heart's content.
Chocolate Marble: Amazing innovation on part of the Pancake House chefs! Chocolate syrup is swirled into the batter to make a deliciously sweet, marble panckae.
Fruit Choices: Add mangoes or candied strawberries to your pancake to enjoy the fruity goodness in the morning.
Pancake Medley
The pancake combinations are a meal in themselves for those who are feeling extra-hungry. These pancakes do not come alone. They come in combos like Classic Country Medley and Bacon and Cheese Medley. In the first combo, you can eat two pieces of classic pancakes with country sausage and your choice of juice or coffee. The second combo includes cheese pancakes, crispy bacon, and coffee or juice.
Waffles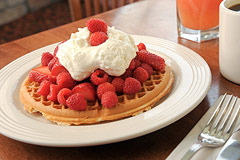 Golden Brown: These classic and crunchy waffles are such a good treat.
Cheese: Enjoy the creamy, delicious cheese with every bite of these waffles.
Bacon: Juicy bacon strips are embedded inside the waffles, for you to enjoy every bit of your breakfast.
Caramel Banana Walnut: This good enough waffle Banana slices and chopped walnuts are mixed into the waffles and this treat is made even more delicious with the caramel syrup topping.
On the side
While pancakes and waffles are the mainstay of the Pancake House Menu, you can even go for the following sides, for complete satisfaction. Your choices among the sides are:- Vienna or Country Sausages, Bacon strips, and Sweet ham.
The Pancake House Menu is effectively only for breakfast lovers. However if you are one of those who love to have pancakes any time of the day, then this place is for you.
Image Courtesy: harvestpancakehouse.com, ophmn.com 
Pancake House Menu - A Casual Dining Experience