Saladworks Menu - Healthy, Tasty, Simple
1 Nov 2011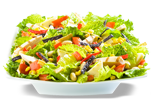 The Saladworks restaurant began its journey in 1986, with the idea to provide "fanatic'ly fresh, made-to-order, entrée-sized salads" as a viable alternative to the dining out crowd, which usually gorged on high-fat, high-sodium fare. The thought that the consumers deserve a better deal always remains the driving force behind the Saladworks Menu, which is an ecclectic mix of salads, soups, sandwiches, and wraps. Try one out today and get hooked on for life.
Salad Menu
This section boasts of the healthies meal choices, be it the fresh signature salads or create-your-own salad recipes. You can even check the nutritional information on all the salads:
Fire roasted cabo jack
Turkey club
Greek
Wrap Menu
The best quality of Saladworks wraps is that these are made with the restaurant's signature salad recipes. That is why you are sure to get all the healthy ingredients wrapped up for your.
Buffalo bleu: Freshly baked tortilla chips are filled with romaine crisps, iceberg lettuce, chicken, spicy sauce, tomatoes, peppers, and crumbled bleu cheese, to make this wonderful wrap.
Sophie's wrap: Dunno what the name is dedicated to but this wrap contains some of the most amazing flavors like baby spring mix, chicken, bleu cheese, craisins, pecans, and green apple.
Mandarin chicken: This wrap with an Asian flavor comes filled with baby spring mix, mandarin oranges, chicken, sliced cucumbers, carrots, craisins, and chow mein noodles.
Turkey club: This Turkish delight comes loaded with roasted turkey, crispy bacon strips, radiatorre pasta, iceberg lettuce, romaine crisps, and tomatoes.

Sandwich Menu
The sandwiches, just like the wraps, are made with the salad fillings and the bread is toasted or grilled, which is why you get that many lesser calories in your sandwich. Some of the most exotic flavors go into making these sandwiches, as you will see in the following lines:
Ham continental (baked ham, swiss, romaine, tomato, focaccia bread)
Fajitalicious (chicken, cheddar, roasted red peppers, romaine, focaccia bread)
Turkey Continental (roasted turkey, swiss, romaine, tomato, focaccia bread)
Chicken monterey (chicken, spicy monterey jack, tomatoes, romaine, focaccia bread)
Panini Menu
The Saladworks' signature panini sandwiches are made with seasoned sourdough bread and filled with some delicious fillings made up of blue cheese dressing, hot sauce, mozzarella, sliced chicken, thousand island dressing, sliced turkey, cheddar cheese, balsamic vinaigrette, and herbs like basil leaves. Try one of these and enjoy the goodness of health.
Soup Menu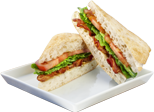 As we promised in the beginning, each section of the Saladworks menu is good for your health and this one, that of the soups, is the most suited if are in the weight-loss fray. These hot and healthy soups are made with interesting twists and turns within regular recipes and you are assured that each bowl comes to you made with the highest quality ingredients.
Fiesta tortilla: This a slightly spicier soup, made with the Southwestern touch of corn tortillas.
Vegetarian chili: The veggie-lovers will love the touch of heat, overloaded vegetables, and a hearty supply of beans in this soup.
Maryland crab: This out and out spicy recipe is made with sweet bay-style crab meat, cooked in a broth of tomatoes and vegetables.
To sum up, we can say that the Saladworks Menu works best for those looking for a healthier option of dining out.
Image Courtesy: saladworks.com 
Saladworks Menu - Healthy, Tasty, Simple