Jason's Deli Menu - To Be Reckoned With
1 Nov 2011
The Jason's Deli restaurant was adjudged the "Best Restaurant in America" in March 2011 by the Parent's Magazine. This recognition is mainly due to the thought behind the Jason's Deli Menu, which has a great role to play in making this restaurant a favorite of its patrons. You will agree with us once you sample the menu yourself.
Soups
The soups are made with freshest ingredients, under the healthiest conditions. That is why, these soups remain one of the most repeat orders on the Jason's Deli Menu. Try one out for yourself and become a fan for life:
Organic Vegetable
Tomato Basil
Broccoli Cheese
Chili
For those who want to start their day at a fiery note, the chili served at this deli is one of the best available in the market. Just make sure that you keep a pitcher of a drink of your choice handy in case the fire gets too much to handle. Choose from among the following:
Salads
The Salads, just like the soups, are a good way to eat healthy at the Jason's Deli, and what's more, these come in interestingly delicious combinations and suitably flavored, so as you do not have to compromise on the taste factor. You can choose from the following:
The Big Chef
Nutty Mixed-Up Salad
Salad without chicken
Our Lighter Side
Each of the following choices, which will help you discover the lighter side of this menu, are served with either fresh fruit, steamed vegetables, baked chips, and pickle or organic blue corn tortilla chips with salsa:
Club Lite: Whote grain wheat is toasted and served with smoked turkey breast, ham, Swiss cheese, honey mustard, lettuce, and tomato. Just 475 calories and 14 g. total fat.
Spinach Veggie Wrap: The goodness of organic spinach, asiago, sprouts and guacamole, wrapped inside organic wheat wrap filled with mushrooms. You eat just 359 calories and 17 g. total fat with this one.
Build Your Own Sandwich
Take matters in your hands with the build your own sandwich section. Remember, each order is served with chips or baked chips with a pickle. The choices of meat for your own sandwich are:- roast beef, oven roasted turkey breast, smoked turkey breast, premium ham, and tuna salad, etc.
Subs
These subs are really explosive, especially with sauces like the Italian red. One of the main options in this section are the MeataBalla, which is meatballs, Italian red sauce, provolone cheese served over the New Orleans French bread. For beef lovers, there is the Beefeater, where hot roasted beef, provolone cheese, and mayo are brought together on the New Orleans French bread and served with a cup of au jus.
Specialty Sandwiches
These specialty offerings come from the stable of the Jason's Deli for those who like their meals to be special. You can choose from the following:
Club Royale: A toasted croissant is served with a filling of smoked turkey breast, ham, bacon, Swiss and cheddar cheeses, lettuce, tomato, and honey mustard.
Chicago Club: A slightly healthier option, this sandwich is made with smoked turkey breast, bacon, provolone, smoked red pepper-cilantro aioli, organic spinach, and roma tomatoes on a herb focaccia bread.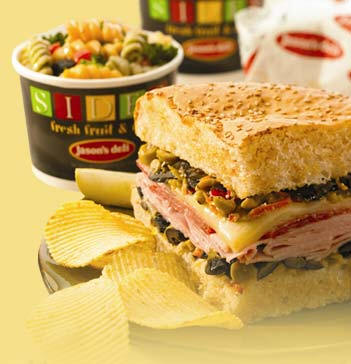 Pasta, Paninis & Wrapinis
When you want a dose of your favorite Italian, Jason's Deli is the place to go. Order any of the following pasta, panini, and wrapini delights and eat to your heart's content:
Chicken Pasta Primo
Penne Pasta & Meatballs
Smokey Jack Panini
Chicken Club Wrapini
Sample this menu for yourself and let us know how you  like it.
Image Courtesy: igougo.com, allsandwich.com, jumponmarkslist.com, kidwinks.com 
Jason's Deli Menu - To Be Reckoned With