Taco Bueno Menu - A Simple Mexican Affair
1 Nov 2011
The First Taco Bueno opened in 1967 at Abilene, Texas and the first thing noticeable about this place was its menu. Since its opening day, the Taco Bueno Menu has been the mainstay of the place, with so many options for diners. In case of any doubt, have a dekko yourself:
Breakfast
Platter: You can make your morning lively with the Breakfast Platter on offer at Taco Bueno. It comes loaded with scrambled eggs, refried beans with cheddar, bacon, potato stix and flour tortillas. What more could you ask for a good morning!
Burritos: These breakfast burritos are serious business, especially when you have to tackle freshly scramble eggs with queso plus sausage or bacon or both, with potato stix. Eat it only if you can finish it!
Burritos
Bean Burrito: Refried beans, chili sauce, and grated cheddar cheese are rolled together into a soft flour tortilla, to make up for a sumptuous and pleasureful eating.
Beef Burrito: 100% ground beef, chili sauce, and grated cheddar cheese inside a soft flour tortilla make up for a delicious meal in itself.
Combo Meals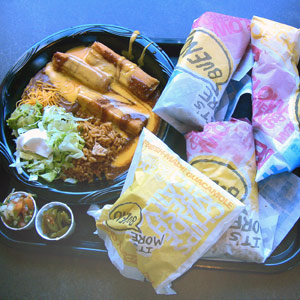 Bueno Chilada Combo: A chilada made with beef or sour cream chicken, coupled with a crisp taco and a handful of small chips. A perfect deal-breaker, if you are not that hungry.
Beef Nacho Salad: A large beef nacho salad, an even crispier beef taco, and a soft drink. Order this one if you are out with your friends.
Muchacos
This one is a Taco Bueno exclusive and is one of the most popular items on the menu. Soft and thick pita bread is piled on with all-white chicken, lettuce, cheddar cheese, and tomatoes, and folded into "dining perfection." You may like to replace chicken with beef, if you are feeling even more carinovorous!
Quesadillas
You get beef, chicken or cheese quesadillas, which are all basically means to satiate your hunger but all three items in this section are a delight in themselves.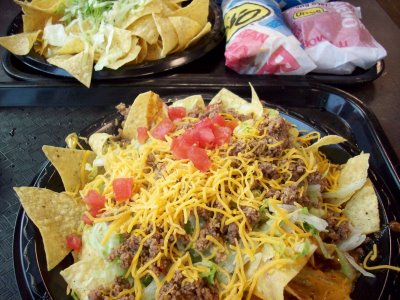 Soups & Salads
This section is quite a misnomer in the whole Taco Bueno Menu because anyone who is a nacho and taco lover isn't really serious about the soups and salads, right? Well so think the chefs here, that is why, the soup you get here is loaded with chicken, poblano peppers, cooked in a savory broth, along with real cheddar cheese and tortilla chips. Not really healthy, right? But who cares!
Taco Bueno Choice
An exclusive collection of the choices of the joint owners and chefs together, this section of the Taco Bueno Menu offers a truly Mexiccan affair of palate, with choices like: Chicken Fajita Taco, Steak Fajita Taco, Soft Chicken Taco, Soft Beef Taco, Vegetable Black Bean Burrito, and Chicken Tortilla Soup Bowl.
The Taco Bueno Menu is an overall simple affair with Mexican specialties, which you can savor in any part of America.
Image Courtesy: theglutenfreejourney.com, louisvillehotbytes.com, sherdog.net 
Taco Bueno Menu - A Simple Mexican Affair