Secret Recipe Menu - Not So Secret Anymore!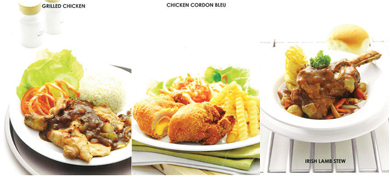 Secret Recipes Lifestyle Cafe offers an extensive and authentic range of recipes and fine quality cakes, which have always been praised and recognized with numerous awards throughout the ASEAN region. With its presence in the metropolis of Singapore, Philippines, China, Thailand, Indonesia, and more recently, Pakistan, this cafe continues to surpass its own commitments with the help of its ecclectic menu. Sample for yourself:

Secret Recipe Menu



Salad


The salads served at the Secret Recipe Cafe are to die for, not only because of the freshness of the ingredients, but also because of the choicest dressings used to dress up these salads. These salads would cater to the most hardcore palates and are worth a try even if you are not much of a health-freak. You can choose from among the following:

•Garden salad with fetta cheese

•Caesar's salad

•Crispy chicken salad



Soup


The Secret Recipe soups are a meal in themselves, what with the delicious broth and chunks of fresh meat and vegetables served to you, with the most freshly baked bread or breadsticks, whatever you prefer. If you arrive a little early at the cafe, you can while away your time consuming one of the following soups on the Secret Recipe Menu:

•Pumpkin soup

•Minestrone soup 
•Mushroom chicken soup

•Cream chicken soup

•Carrot and ginger soup



Appetizer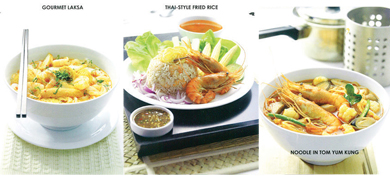 Appetizers are the mainstay of a good menu and the Secret Recipe cafe doesn't lack in this department. In case of appetizers, proper care has been taken by chefs to be true to the local tastes and ingredients, while conjuring up flavors that cater to a global audience. Your choice of appetizers is as follows:

•Chicken wing

•Thai fish cake 
•Bbq chicken stick

•Chicken strip

•Sugar cane chicken



Chicken

Chicken is something no one can resist while dining out. So thought the chefs at this cafe. That is why, when you order chicken, you get a good lot to choose from, which comprises of:

•Grilled black pepper chicken 
•Grilled mushroom chicken

•Grilled mexican chicken

•Grilled cream chicken

•Mongolia chicken

Steak

In keeping with the American tradition of dining out, steak features prominently on this menu. Right from the Mexican rib eye steak to black pepper rib eye steak, you can gorge upon flavors from back home. What's more! The chefs take care to preserve the local traditions that is why they have mixed flavors like ginger, mushroom, chili, lime, and cilantro while preparing the rib eye steak. Order one and enjoy the blissful dining.



Pasta

The Secret Recipe Menu doesn't boast much by the way of Italian and the only two Italian dishes present on the menu are Lasagna and Spaghetti Bolognese.



Ocean Delights

When we talk of Singapore, how can we not talk of seafood. So, you have fish and chips, Caribbean style fish fillet, Catch of the day, and neptune's delight, all under one roof.

Asian classic

The Asian flavor is fully celebrated in this section of the menu as you can see when you get to order from among the following:

•Fried chicken with clear noodle soup

•Noodles in tom yum soup 
•Singapore laksa

•Vietnamese beef noodle soup



Brownies, Cakes, Cheesecakes

One thing that Secret Recipe Menu is most famous for is this section, the baked goodies, right from brownies (with ice cream), Cheesecakes (Americano, Blueberry, Cappucino, Caramel, Marble, New York), and Cakes (Almond Coffee, Black Forest, Choc Mud Cake, Cocoa Mocha, Moist Chocolate, White Chocolate Macadamia).

In all, the Secret Recipe Menu is good for a good dining experience out in the sun or under the shade of the stars. The food arrives piping hot and you get to savor the ASEAN cuisines all under one roof.

Image Courtesy: secretrecipe.com