Planet Hollywood Menu - Big Screen Dining Experience
31 Oct 2011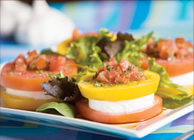 When the first Planet Hollywood restaurant was opened in New York on October 22, 1991, it started off with a diverse menu that featured everybody's favorite recipes, right from exotic salads to award-winning burgers. This restaurant's Menu, since its first opening, continues to cater to the public taste and offers a dining experience truly worthy of the big screen.
Planet Hollywood Menu
Appetizers
Parmesan Spinach Dip: Spinach and mushrooms are smothered in creamy Parmesan cheese dip, inside crisp tortilla chips.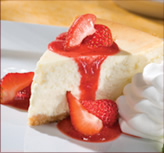 Bruschetta: The Roma tomatoes are dicced and blended with the help of basil olive oil, topped with tomato aioli and served atop toasted garlic bread.
World Famous Chicken Crunch: Tender chicken strips are coated crunchy and sweet and as if to balance the sweetness, these are served with Creole mustard.
Potato Skins: Everyone loves Potato skins, so do the Planet Hollywood chefs. These potatoes are baked crispy and filled with bacon, mozzarella, and Monterey Jack cheeses. As if that was not enough, sour cream is served on the side.
Texas Tostadas: How could we forget the Southern flavor, which is represented in the form of these crispy mini tortillas, stuffed with barbeque chicken, sautéed onions, Monterey Jack, and sharp cheddar cheeses. Sour cream and pico de gallo are served on the side.
VIP Platter: Since we are talking Hollywood, how could we not include this VIP Platter, which comes loaded with chicken crunch, buffalo wiings, Texas tostadas, and spinach dip, and serves four people.
Salads
Chicken Caesar Salad - Freshly grilled chicken chunks, Caesar dressing from the Planet Hollywood kitchen, and aged Parmesand cheese are served together in a delicious salad. Ohh, how could we forget the crisp romaine hearts as well.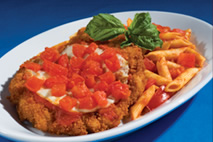 Blackened Salmon Caesar Salad - Fresh salmon is blackened, tossed in with crisp romaine hearts, and croutons, and drenched in the classic Caesar dressing, Parmesan, and Romano cheeses. This salad is awesome combo of flavors.
Cobb Salad: This classic salad is an enthusiastic combination veg and non-veg ingredients, making it a complete salad in itself. There is romaine hearts, tomatoes, Gruyere cheese, turkey breast, hickory smoked bacon, fresh avocado, and eggs, all combined together in tasty Russian dressing. Who wouldn't want to taste it?
Spinach Salad: This green salad is loaded with goodness, in the form of baby spinach, peaches, strawberries, roasted chicken, walnuts, and red onions. The tomato balsamic vinaigrette and bleu cheese crumbles just add on to the taste.
Burgers & Sandwiches
Burgers are an all-American favorite and so are movies. Planet Hollywood is the right place, where these two favorites meet together. All the Planet Hollywood burgers are served with lettuce, tomato, onion, french fries, and pickles. Your choices in this section are: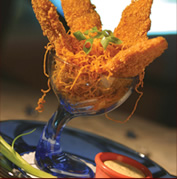 Mushroom, Onion and Swiss Burger
BBQ Bacon Chesseburger
Philly Steak and Cheese Sandwich
BBQ Bacon Cheddar Chicken
Tuscan Chicken
Pasta and Noodles
Each pasta dish can be enjoyed with a small Caesar Salad or garden salad for an additional $4.99. You can choose from among the following:
L.A. Lasagna: This lasagna is with a Californian twist and it has fresh pasta tubes, filled with ricotta cheese and bolognese meat sauce, fried to a golden brown and served with garlic cream and tomato basil sauces.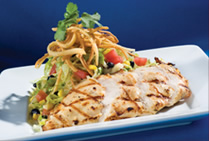 Penne, Chicken and Broccoli: The classic penne pasta is blended with juicy fresh grilled chicken, and broccoli florets inside a roasted garlic basil cream sauce.
Garlic Shrimp: The delicious shrimp, a favorite among seafood, is stir-fried with garlic, ginger, onions, red pepper, and sugar snap peaas, and to onset a spicy onslaught, this mix is tossed into spicy chili garlic sauce along with chukka soba noodles.
Spaghetti Pomodoro: This spaghetti dish is filled with the right herb, i.e., fresh basil, and goodies like plum tomatoes, extra virgin olive oil, and aged Parmesan cheese. This spaghetti blend is a delicious start for your Hollywood experience.
Grilled Specialties
The grilled specialties on Planet Hollywood Menu are varied and each is tastier than the other. You have a lot to choose from: Ribeye Steak, New York Strip Steak, BBQ Pork Ribs, Sizzling Fajitas, and Roasted Half Chicken,etc.
The Planet Hollywood Menu is not just this. There are desserts, beverages, and side orders to choose from. However, we brough you a dekko of only the major sections on the menu.
Image Courtesy: planethollywoodintl.com
Planet Hollywood Menu - Big Screen Dining Experience