Smokey Bones Menu – 'Hope You're Hungry'
31 Oct 2011
The Smokey Bones Menu hopes only for one thing – you should be hungry enough to enjoy their mouth-watering collection of popular flavors.  The Menu names themselves are interesting as you will see for yourself:
Fire Starters
These delicious 'crowd pleasers' are sure to set your taste buds racing, especially when you enjoy them with a variety of dipping sauces. You'll agree too once you have gone through the list given below:
Pretzel Bones: This is a delicious twist on the classic pretzels, with pretzel sticks being served to you that are buttered and salted. You may enjoy them with sweet honey mustard, creamy queso or robust garlic Parmesan dipping sauces.

Loaded Nachos: Take the name seriously because these nachos are really loaded. Crisp tortilla chips are drenched in queso and cheddar-jack cheese and tossed in with tomatoes, shredded lettuce, sour cream, salsa, red onions, and sliced jalapenos for that extra spicy effect.
Skillet Cornbread: Sweet and simple cornbread, baked on a skillet, is served with a generous serving of honey-pecan butter.
Crispy Shrimp Dunkers: Jumbo shrimps come to you battered as per choice and cooked to perfection, and you can dunk them in a delicious teriyaki dipping sauce.
Loaded Cheese Fries: Seasoned potato fries are covered in melted cheddar-jack cheese, chipotle mayo, BBQ glaze, and bacon, toppings like diced green onions and tomatoes are added and you get to enjoy these delicious fries with a Ranch dipping sauce.
Southwest Spring Rolls: Spring rolls get an interesting twist with filling made of shredded chicken, corn, black beans, and assorted spices. The creamy cilantro ranch sauce adds to the deliciousness.
Fire-Grilled Favorites & BBQ
The Fire-grilled Favorites are made in the in-house smokers, fed with 18" hickory logs, and served with your choice of regular sides.
Baby Back Ribs: The babyback ribs served on the Smokey Bones Menu are award-winning and not without reason. The ribs are seasoned in three stages, marinated and then hickory-smoked for about four hours. Before being served, these ribs are fire-grilled to order and served in three flavors – Original, Memphis Dry Rub & Brown Sugar.
Smoked St. Louis Ribs: These ribs are perfectly trimmed, marinated and slow-smoked for more than 8 hours and brushed with the Smokey Bones' Original BBQ sauce.

Double Trouble: This offer is no trouble at all, especially as it comes as a combo of both Babyback ribs and Smoked St. Louis ribs. The only trouble would be to keep licking your fingers!
Hand-pulled Pork: Pulled pork has remained a favorite with the BBQ crowd and the kind of hand-pulled pork served at Smokey Bones is the right flavor, seasoned with salt and pepper only and slow smoked for about a day, this hand-pulled pork just melts in your mouth.
Rib combos: Rib combos are the right way to indulge yourself in some rib-feast. You can order your choice of slow smoked ribs with any of the favorites served above.
Burgers & Sandwiches
Loaded BBQ Burger: A ½ lb Memphis-spiced burger, fire-grilled, covered in melted Cheddar, piled high with crispy onions rings and pulled pork, is all for you at the Smokey Bones.  You may want to smother it in KC BBQ sauce and enjoy it with delicious homemade coleslaw.
Smokehouse Burger: This mouth-watering treat is made with 1/2 lb burger inside a toasted burger bun, which is smothered in BBQed onions, bacon slices loaded with pepper, melted Cheddar cheese and onion straws. 
Big Time BLT: This big time food adventure is prepared with 1/2 lb of fire-grilled burger bliss covered in melted Swiss cheese. The various toppings include iceberg lettuce, tomato, thick bacon slices, avocado, red onion, garlic mayo, and pickles.
Avocado Turkey Burger: An all-white-meat turkey patty is lightly seasoned, fire-grilled, and served over a toasted bun, topped with garlic mayo, crisp lettuce, fresh Haas avocado, and sliced tomato.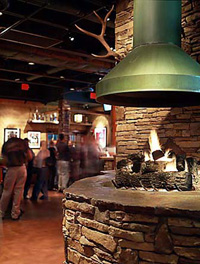 Chicken, Pasta & Seafood
Flame-seared Salmon: Salmon filets are fire-grilled and topped with either citrus butter sauce or a sweet teriyaki glaze. Enjoy it with your choice of two regular sides.
Smokehouse Chicken: Natural, double chicken breast is dusted in spices and covered in a bourbon BBQ glaze, which is then fire-grilled and topped with peppered bacon, melted Cheddar, and crispy onion straws.
Fish & Chips: Whitefish from the North Atlantic, covered in seasonings, battered in beer, and fried till golden crisp, is served with thick-cut fries, tartar sauce, and malt vinegar.
Chicken Fingers: This traditional item is made with marinated chicken tenders, breaded, and fried till golden. Enjoy these fingers with honey mustard or peppercorn ranch dipping sauce.
Salads, Soups & Sides
Stacked Baked Potato and Salad: Choose from among Garden Greens or Caesar side salad, take a baked potato on the side and cover your plate in either pulled pork or beef brisket and dig in.
Steak & Spinach Salad: Fresh baby spinach, a 5 oz. top sirloin, red onions, and bacon vinaigrette come together to form a delicious salad, which is enhanced in flavor with bleu cheese crumbles, fried mushroom, and bacon crumbles.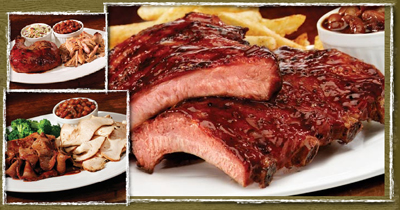 Nutty Chicken Salad: Those with nut-allergy should avoid this but others can truly enjoy this one because it comes nuts, chicken, dried cranberries, candied pecans, goat cheese, and fresh strawberries, all slathered in honey Dijon dressing.
Desserts
Hot Bag O' Donuts: Delicious donuts, all fresh, fluffy, and cinnamon-sugary, are enjoyed properly with a chocolate or strawberry cream dipping sauce.
Leaning Tower of Chocolate Cake: Chocolate-lovers, indulge yourself in this leaning delight, which is made up of chocolate cake's 6 layers, highly smothered in dark fudge, and sweet chocolate frosting. With vanilla ice cream and a chocolate drizzle on the side, this dessert is going to taste heavenly!
Wicked Apple Wontons: Yes! This dessert is really wicked for being so tasty. Three hot, crisp, mini wontons filled with apples are served with twin scoops of ice cream. A drizzle of delicious caramel sauce completes this dessert.

We hope that after reading about the Smokey Bones Menu, you would be hungry enough to sample one item each from all the sections. Don't forget to share your experience with us.
Image Courtesy: smokeybones.com, megabbq.com, alwaysfoodie.com, toodoopolaris.com, discoverindy.com
Smokey Bones Menu – 'Hope You're Hungry'