Rainforest Cafe Menu – A Tropical Adventure
30 Oct 2011
Rainforest Café Menu is an amazing place to be, for its tropical treats, mouthwatering appetizers, exotic salads, and simply enticing "Sparkling Volcano dessert." Although, on the fact of it, the café may appear like targetted on the kids, but if you visit it even once, you will realize that it also caters to the kid in you.
Rainforest Café Menu – The Tropical Treat
Appetizers
Raging Thunder Buffalo Wings: Buffalo wings cooked in traditional style are served with carrot sticks, celery, and blue cheese dressing.
Rainforest Pita Quesadillas: A twist on the old favorite, grilled pita bread is filled with grilled chicken, roasted peppers, caramelized onions, and melted cheese, which you can enjoy with pico de gallo and sour cream.
Onion Stack: Onion rings are an all-time favorite and at Rainforest Café, you get them in pile-high quantity, with Ranch dressing and ketchup for dipping.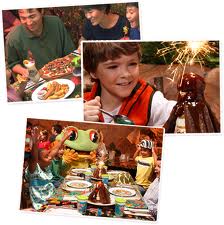 Cheese sticks: Mozzarella sticks, breaded in a light mixture, and fried till golden brown are served along with marinara sauce. Quite a delicious way to start your meal!
Soups & Salads
Tomato Basil Soup: A delicious choice to begin your second course of meal is the tomato basil soup, which becomes even more delicious when served with Parmesan cheese.
Seaside clam chowder: Although, a New England specialty, this chowder is popular throughout America. The reason is loads of tender clams, potatoes, and vegetables.
Little Islander Caesar Salad: The Classic Caesar Salad gets the Island twist but the grilled chicken and the shaved Parmesan cheese remain the same.
Burgers & Sandwiches
Rainforest Burger: This beef burger is piled high with fried onion rings, pickles, lettuce, tomato and a cheese that you can choose yourself. You can enjoy this 100% beef burger with bacon or sauteed mushrooms.
BBQ Bacon Cheeseburger: The classic cheeseburger is loaded with the Rainforest Café's Smokin' Mojo BBQ sauce, Cheddar cheese, and bacon. The pickles, lettuce, tomato, and a fried onion ringare also there inside the bun.
Blue Mountain Chicken sandwich: This sandwich has got Swiss cheese, roasted red peppers, bacon, and leaf lettuce over lemon-marinated grilled chicken breasts. Get set for a zesty Safari with this one!
Tuki's Turkey Club: Shaved turkey breast, Pepper Jack cheese, and mayo go into making the filling, which is served inside toasted sourdough bread. You can enjoy this sandwich with coleslaw.
Seafood
Congo catfish plate: Order his plate if you have grown eating farm-raised catfish, fried golden and served with tartar sauce on the side. The plate is complete with Safari fries and coleslaw. Just go for it!
Caribbean Coconut Shrimp: This delicious island dish is prepared with the mild taste of coconut milk and caribbean spices, in which the tender shrimp is marinated, covered in fresh coconut, and fried golden brown. The real taste of this delightful recipe comes through when had with mango sauce.
Fish-n-chips: The good old fish-n-chips makes its way into the Rainforest Café Menu as well. Flaky cod fish is fried golden and served with Safari fries, coleslaw, and tartar sauce.
Beef, Pork & Chicken
Parmesan Chicken: What else but chicken breasts covered in parmesan, fried, topped with marinara sauce, and served with linguini.
Tuscan Chicken: The Italian flavor makes its presence felt when you savor chicken breast, marinated in Balsamic and tomato, char-broiled, and cooked with cucumbers. Garnished with a honey Dijon mustard sauce and served with Kalamata olives and tomatoes, you can feel the Tuscany flavor on your palate.
Flat Iron Steak Combo: A 7 oz. char-broiled flat iron steak is served with either fried shrimp, coconut shrimp or one-quarter rotisserie chicken, as per your choice.
Primal Steak: Another steak combo, where you can pair a center-cut, New York strip steak, aged for 21 days, char-broiled, and slathered in steak butter, with coconut shrimp to enjoy the actual taste of it.
Pasta & Pizza
Rasta Pasta: This delicious pasta dish is fully loaded with penne pasta, walnut pesto, broccoli, red peppers, spinach, and juicy chunks of grilled chicken, all tossed together in garlic Alfredo sauce.
Planet Earth Pasta: This mildly-flavored dish is a cheese burst, with Italian sausage, penne pasta, and garlic tossed in olive oil and marinara sauce and topped with loads of fresh Mozzarella cheese.
Pastalaya: An interesting twist on tradition, shrimp, sauteed chicken, bell peppers, onions, and Andouille sausage tossed in a hot and spicy Cajun sauce and served over linguini. Go for it if you are feeling truly adventurous.
Maya's Mushroom Ravioli: Mushroom Ravioli tastes so much better at Rainforest Café because it is simmered in a rich lobster cream, along with Roma tomatoes, and fresh spinach.
The Rainforest Café Menu is truly an adventurer's delight and it doesn't matter if you are not a kid, you will still enjoy the bursting flavors served here.
Image Courtesy: rainforestcafe.com, blog.sfgate.com
Rainforest Cafe Menu – A Tropical Adventure