Au Bon Pain Menu – At A Light & Breazy Note
28 Oct 2011
When businessman Louis Kane thought of making fresh baked breads and croissants available to everyone in the city, it was because of his chance encounter with Boston's historic Faneuil Hall marketplace, where he saw French bakery ovens showcased in shops.  Enticed with the aroma of the fresh breads, Kane decided to open Au Bon Pain, and today the café has branches in Kuwait, Dubai, Thailand, South Korea, and Taiwan.
Au Bon Pain Menu
Artisan Bread Collection
The Au Bon Pain Café boasts of classic artisan bread collection, which is created under the guidance of French bread master Lionel Poilane. You can pick up these breads for special occasions or for daily use. One thing is for sure that you will be unable to stop yourself from ordering more of these.
New Items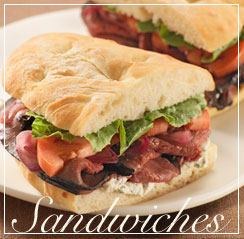 Some new menu items on offer at Au Bon Pain are:
Asian Chicken Salad:  Natural chicken is tossed in with romaine, Napa cabbage, and shredded carrots, and topped with fresh cilantro, and served with crispy wontons. The salad goes well with the Au Bon Pain sesame ginger dressing.
Butternut Squash and Apple Soup: Butternut squash and golden pumpkin is put together with apple puree, all of which is simmered in a Vegetarian veloute, and garnished with sweet cream, maple syrup, and rosemary twigs.
Chai Spice Whoopie Pie: A moist cake, filled with cream and a tasty combo of ginger, cinnamon, and molasses, is a perfect tea-time company.
Breakfast
The breakfast items served on the Au Bon Pain menu are scrumptious enough to entice you to the café during all hours. Your choices are:
Bacon and Bagel: The classic bagel and the classic bacon, are served together to make up a classic breakfast item.
Bacon and Egg Melt on Ciabatta: Freshly cracked eggs, bacon, cheddar cheese, all on a toasted slice of ciabatta bread, what more could one ask for on a good morning!
Egg On A Bagel With Bacon: Eggs and bacon served upon a bagel, which you can choose.
Soups
For the health fanatics, who run away from the eggs, bacon, and bagel breakfast, there are lots of soups to choose from. These soups are made with fresh ingredients and served steaming hot so that you can satisfy your hunger pangs easily. You can pick out of:
12 Veggie Soup (Vegan): As the name suggests, 12 vegetables go into making this soup, which is also vegan, a plus point.
Baked Stuffed Potato Soup: Russet potatoes are baked and served with smoked bacon inside a rich cream sauce, decorated with spring onions, and chive.
Black Bean Soup: This delightful soup is vegan and fat-free as it is mainly black beans simmered inside a spicy vegetairan broth along with garlic, sweet onions, and cilantro.
All Portions
For the more connoisseur eaters, the Au Bon Pain Café serves up all portions on its menu, which are a good choice to serve up at a close gathering of friends or family. You can choose from among the following:
Apples, Bleu Cheese and Cranberries
Brie, Fruit and Crackers
Cheddar, Fruit and Crackers
Herb Cheese, Fruit and Crackers
Hummus and Cucumber
Mozzarella and Tomato
Harvest Rice Bowls
For the greedier among us, the Au Bon Pain Menu serves up delicious rice treats, which can be enjoyed with vegetables, meat and a variety of sauces. Your choices in this section are:
Angus Steak Teriyaki Harvest Rice Bowl
Angus Steak Teriyaki Harvest Rice Bowl with Brown Rice
Mayan Chicken Harvest Rice Bowl
Oatmeal
You will not find a separate menu section devoted just to oatmeal at any restaurant other than Au Bon Pain, which is why, it is important to notice that health is given equal preference as taste on the Au Bon Pain Menu. Your choices of oatmeal at this café are:
Apple Cinnamon Oatmeal
Vegetarian Oatmeal
Snacks
Want to munch upon something in between meals or while waiting for your meals on your table? No problem, there are a lot of snacks to choose from:
Chocolate Covered Almonds
Chocolate Covered Pretzels
Chocolate Covered Strawberries
Chocolate Nonpareils
Dark Chocolate Covered Raisins
Fresh Grapes
Fresh Pineapple
The Au Bon Pain Menu is a delightful way to start or end your day at a lighter, non-greasy note. Once you start eating at this café, we assure you, you will never want to go back to the greasy and leathery restaurant food ever again.
Image Courtesy: aubonpain.com
Au Bon Pain Menu – At A Light & Breazy Note