White Castle Menu – More Than Just A Company
28 Oct 2011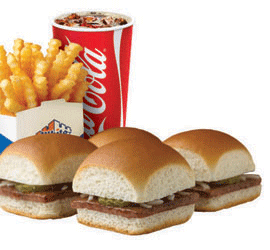 Anyone who has seen "Harold and Kumar Go to White Castle" will vouch for the fact that you can go to any length to be able to eat there. The tasty hamburgers, which the fast-food chain serves in billions, are so enticing that the lead pair of actors in the movie leaves no stone unturned to eat them. Well, we are not asking you to do what Harold and Kumar did in the movie, but all you need is a look at the White Castle Menu to know what we mean.
The White Castle Menu
Sack Meal 1: As the name suggests, this is a kind of "base package" enough for one person. It includes 4 hamburgers, a medium fries, and a small drink. Enough to keep you going for a short while!
Sack Meal 2: Again meal for just one person. This one has 2 double cheeseburgers, which means you get more of cheese and less of bun, medium fries, and a small drink.
Sack Meal 3: Two chicken breast sandwiches, medium fries, and a small drink, this meal will convince you to believe that chicken should come "only in pairs."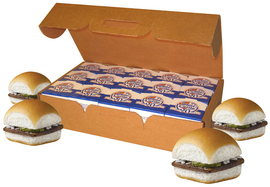 Sack Meal 4: This is a combo meal, again enough to feed just one mouth and this time, you have two of White Castle's tastiest beef alternatives, along with two fish sandwiches, medium fries, and a small drink.
Sack Meal 5: Yummy chicken rings, medium fries, and a small drink, that is all you get in this sack meal, however, don't think, even for a minute, that you will need to order anything more because this meal is perfectly satiating in itself.
Sack Meal 6: This is a sandwich combo with a nice ring to it, in the form of two chicken ring sandwiches, medium fries, and a small drink. All this is enough to keep one empty stomach filled.
Big Craves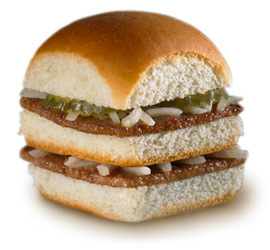 We know there are some of you out there who do not want to eat just morsels. For those among us, there are the Big Craves, which you can gorge upon, when you descend upon a White Castle outlet in hordes, along with friends and family.
Crave Case with Cheese: Imagine 30 Beef sliders, original and steam-grilled, with lots of cheese! We know you are already drooling! This Crave Case with cheese is the right option for a small party of 8-10 people.
50/50 Crave Case: If you want the best of both worlds, this is your choice as it comes with 15 Beef Original Sliders and 15 beef Sliders with cheese. Who said, you can't have your cake and eat it too?
Variety Crave Case: Again, the White Castle owners have made sure that you get everything you ever want inside just one case, which contains 30 Beef Sliders, inluding 10 Original, 10 with cheese, and 10 Jalapeno Cheese Sliders.
Big Crave 9: This is a group meal and should be had within a group only. Get together a bunch of friends and gorge upon 20 hamburgers and 4 medium fries.
Big Crave 10: If you are insanely hungry, then the Big Crave 10 is your choice of meal. It comes loaded with 10 hamburgers, 2 medium fries, and 2 small drinks.
Slider Cravings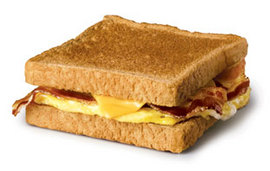 The Original Slider: A perfect option for those who visit White Castle for the first time. This is perfection packed between two buns and that is what started it all.
The Original Slider Double: Well, we understand that some of us do not want just one, therefore, what Wte Castle has done is doubled up the original slider.
Cheeseburger: That good old American feeling of satiated hunger is what is called a perfect cheeseburger and that is what they serve at the White Castle. You can also get a Double Cheeseburger or a Bacon Cheeseburger, if you are feeling adventurous enough!
Jalapeno Cheeseburger: The tangy, spicy twist comes with the jalapeno, inside an Jalapeno cheeseburger.  You only have to make sure that you are ready for this blast of taste.
Side Cravings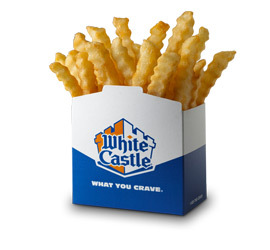 Most of us would like something extra to munch upon while we wait for our Sliders or hamburgers. For those waiting moments, the White Castle serves up a range of side cravings, which includes:
French Fries
Fries w/Cheese
Onion Rings
Onion Chips
Fish Nibblers
Chicken Rings
Mozzarella Cheese Sticks
Breakfast Cravings
The early-risers are invited to sample the classic White Castle-style breakfast, right at the beginning f he day. You may choose from among: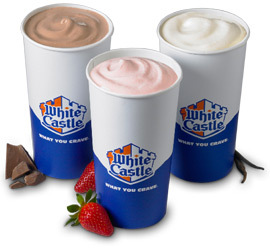 Sausage, Egg & Cheese (on bun)
Sausage, Egg & Cheese (on toast)
Bacon, Egg & Cheese (on bun)
Bacon, Egg & Cheese (on toast)
Egg & Cheese (on bun)
Egg & Cheese (on toast)
Sausage & Cheese (on bun)
Sausage & Cheese (on toast)
Hash Rounds
French Toast Sticks
Orange Juice
The White Castle Menu is simple, delicious and loaded with flavorso cater to every taste bud. So, what are you waiting for? Take the next trip to White Castle and let us know how you reached there.
Image Courtesy: whitecastle.com
White Castle Menu – More Than Just A Company