Checkers Menu – Check Out The Big Flavor
27 Oct 2011

Want to eat sizzling meals loaded with flavor? Checkers is the place to be. This restaurant prides itself in being a one-stop flavor spot for sizzling meals, which are served fresh and full of flavor. The Checkers Menu is testimony to this fact, as you will read for yourself:
Seared & Seasoned Burgers: These burgers are a true delight because each one of these is made with a juicy burger, served with generous portions of Cheddar Cheese, lettuce, onions, and tomatoes. Two of the popular choices in this section are Big Buffalo and Cheese Champ.
Tender & Juicy Chicken: Chicken-lovers get it right! If you love  eating chicken, go for these sandwiches. Whether it is fried chicken or chicken nuggets, you can enjoy a juicy and tender treat, which will always come fresh to you and make your dining experience memorable. Two of the most popular varieties on this menu section are Big Chicken Sandwich and Spicy Chicken Sandwich.
Crispy Flaky Fish: No chicken, no meat, but only fish in this section. Absolutely fresh and deliciously cooked fish is served inside freshly-baked buns and these sandwiches are always made to order. As the restaurant proudly suggests, "Bring a net – these sandwiches are no small catch." We give you two choices out of the whole section and they are Deep Sea Double and Crispy Fish Sandwich.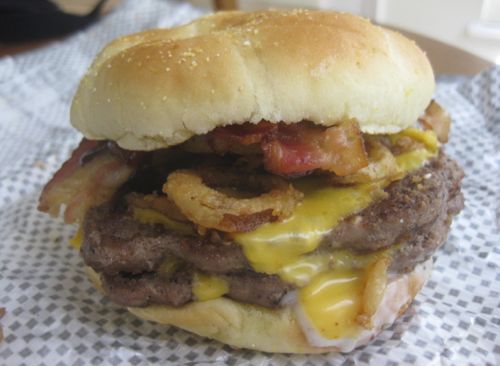 Grilled Hot Dogs: This is not only about hot dogs, but about fresh off the grill dogs, served with loads of cheese and chili. Mustard, ketchup and onions are optional but we are sure, any which way, these hot dogs will leave you "panting" for more.
Famous Fries: Whatever you choose to eat at the Checkers, it is mandatory to enjoy it with their collection of famous fries, which are freshly-cut and fried to perfection. A necessary item to complete your meal at the Checkers!
Checkers Menu is a fun-lover's menu, which allows you to mix fun and food.
Image Courtesy: grubgrade.com, blogs.palmbeachpost.com 
Checkers Menu – Check Out The Big Flavor