Johnny Rockets Menu – A Delightful Dining Experience
27 Oct 2011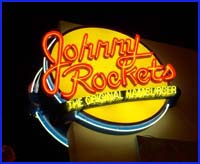 "Guest-friendly service" and "great food" are the two hallmarks of the Johnny Rockets Menu. The food is good and the service guest-friendly, we vouch for that. On the whole, the menu gives the diners a feel-good Americana experience. Wanna experience it for yourself? Read on:-
The Johnny Rockets Menu
Classic sandwiches, hand-dipped shakes, and juicy hamburgers – these are the menu favorites at Johnny Rockets. However, there is much more to savor:
Shakes & Malts
The Johnny Rockets shakes are made with amazing vanilla ice cream, which is hand-dipped while the malts are made with real powdered malt. The flavors are too many to count on fingers, therefore, we suggest you read the following lines carefully and remember them:

Deluxe Shakes: Oreo Cookies & Cream, Butterfinger, Strawberry-Banana, Mocha Fudge, Chocolate Peanut Butter, and Big Apple, etc.
Original Shakes: Hershey's Chocolate, Vanilla, Strawberry.
Root Beer Float: You can have this with a soda pop of your choice.
Starters

Onion Rings: Slathered in the Johnny Rockets' very own sourdough breading recipe, these onion rings are a favorite with the guests.
American Fries: Another tasty favorite of the guests, these fries are made with the choicest potatoes and fried to perfection. Have it with a dip of your choice.
Cheese Fries: One up on the original fries, these are a platter of freshly-cut fries, topped with Cheddar cheese, making it a gooey delight!  
Hamburgers
Rocket Single: Juicy hamburger patty, cheddar cheese, tomatoes, lettuce, onions and a special sauce made this burger a true delight to savor.

Rocket Double: Instead of just one, you get two hamburger patties, which you can enjoy along with the usual paraphernalia around the hamburgers.  
Route 66: This one is named after the famous US Highway and when you eat the hamburger patty with Swiss cheese, grilled mushrooms, grilled onions, and mayo, you know why that is so.
Chicken & Salads

Grilled Chicken Breast Sandwich: Take a grilled chicken breast, some iceberg lettuce, tomatoes, and mayo and put them inside a grilled bun, and you get a heavenly treat!
Chicken Tenders: Chicken strips are breaded in a light batter, fried golden brown, and served with a dipping sauce of your choice. A perfect treat for those friendly meals!
Chicken Caesar Salad: This classic combo is made with grilled chicken breast, served over a bed of crisp romaine, and iceberg lettuce. Topped with Caesar dressing and crunchy croutons, this salad is just the right option to have a tasty respite from the usually heavy fare on the rest of the Johnny Rockets Menu.
Other Favorites
Philly Cheese Steak: This sandwich is prepared with thin slices of sirloin steak, which are grilled perfectly and served with grilled onions,

cheese, and served over an authentic hoagie roll. You may also ask for grilled bell peppers and more onions but at an extra cost.
Hot Dog: An all beef hot dog, made with choicest Gulden's deli-style mustard, onions, relish or ketchup, this hot dog is a delicious option on the menu, which you will not be able to resist.
Chili Dog: An all beef hot dog is topped with generous portions of homestyle all-meat chili, onions, and grated Cheddar cheese, and served inside freshly-baked bun.  
The Johnny Rockets Menu is a delightful way to read your way into some truly memorable dining experience. You will agree too once you taste it, we promise!
Image Courtesy: johnnyrockets.com 
Johnny Rockets Menu – A Delightful Dining Experience