Sizzler Menu – Get Sizzlin' With Food
20 Oct 2011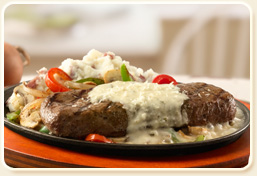 Wanna have a sizzlin' dining experience outside your kitchen? Come to the Sizzler restaurant, which has, over the years, added depth to its menu in the form of a variety of "sizzlin'" items that will leave you wanting for more. Take a look:
Sizzlin' Special
This is a signature item on the Sizzler Menu. Under this, you can order a fresh cut Tri-Tip Sirloin along with anything available on the Sizzler's Endless Salad Bar, just for $10.99! The tri-tip is flame-grilled to perfection while you can enjoy seasonal salads as well as more than 50 garden-fresh choices at the salad bar.
Steaks
When we talk of sizzler, it is but natural that we have to talk of steaks. The steaks section of the Sizzler Menu boasts of a variety of delicacies, grilled to your taste and served wih tasty side dishes. You can choose from among:
12 oz. Rib Eye: This well-marbled rib eye is juicy and seared and grilled to perfection and served with your choice of side, which could be a bakd potatoe or a green salad, just to counter that guilt trip!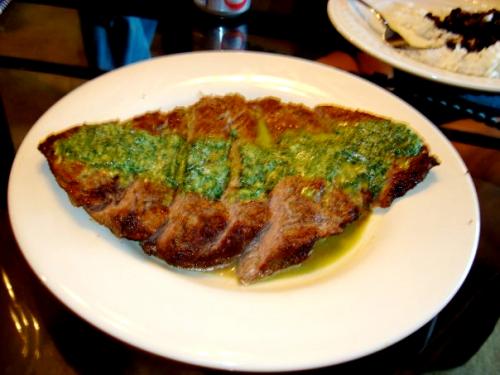 Classic 8 oz.: A little lighter than the previous one, this steak is, once again, USDA choice cut steak, which turns up on your table all tender, juicy and grilled to perfection. An American classic, this steak can be enjoyed with a generous topping of sauteed mushrooms as well as grilled onions.
6 oz. Tri Tip: This tri tip comes tender and flavorful, while the chefs have grilled it to perfection with steak steasoning. A side of steamed broccoli or baked potato or a vegetable medley would be just fine to go with it.
Steak Combos
Steak & Colossal Shrimp: This huge offering comes loaded with grilled steak and 3 colossal shrimp. As if that was not enough, the restaurant puts together a piping-hot baked potato on the side. Eat it all or don't eat it at all, there is no middle way!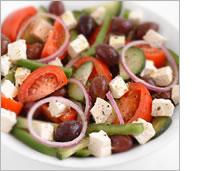 Steak & Unlimited Shrimp: Much, much more than the previous offering on this section, the good old steak comes grilled and in hte company of a large serving of golden, deep-fried shrimp, which you can enjoy with lemon, cocktail sauce and a choice of your side.
Classic Trio: Taking the steak combos to another level, the restaurant offers a platter of grilled steak, deep-fried shrimp, and, hold your breath, Sizzler's very own signature Malibu chicken, which is basically a deep-fried chicken patty and covered in ham and melted Swiss cheese. Enjoy this platter with Malibu and cocktail sauces and a side of your choice.
Seafood
Grilled Shrimp: Shrimps are grilled to perfection and served on two skewers over a bed of rice pilaf, with steamed broccoli on the side. You can also opt for the Sizzler's vegetable medley on the side. In any way, this is going to be a healthy dining option for you and your family.
Grilled Salmon: This scrumptious salmon fillet is rubbed with herb seasoning and then fire-grilled. It is then served upon a bed of rice pilaf and can be had with some steamed broccoli or vegetable medley on the side.
Shrimp, Shrimp, Shrimp: Those who don't seem to have their fill of seafood can opt for this platter, which has a combination of shrimps prepared in different styles. You get crispy popcorn shrimp, stuffed shrimp, and grilled shrimp, all on a bed of rice pilaf, with a dipping sauce of your choice.
Chicken & Ribs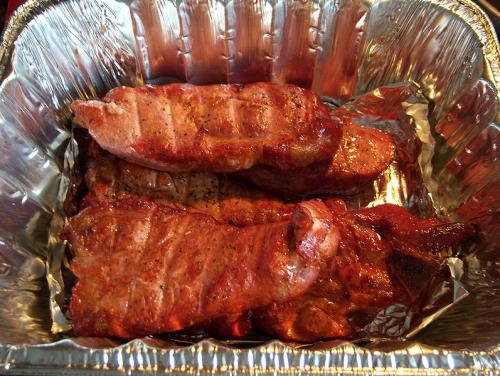 Malibu Chicken: As said earlier, this is a chicken breast, breaded, fried and topped with ham shavings and Swiss cheese, melted to perfection. You can choose to have it with the Sizzler's signature Malibu sauce and the French fries.
Hibachi Chicken: A lighter version of the grilled chicken, this chicken breast is brushed with the Sizzler's tangy hibachi sauce, which is made with a blend of BBQ and teriyaki sauces. Enjoy it with rice pilaf, steamed broccolie or their famous vegetable medley.
St. Louis Style Ribs: Order these ribs, which are smothered in the tangy BBQ sauce and served with coleslaw, an extra serving of BBQ sauce, and your choice of side. Don't forget to order extra napkins because you are gonna need them!
Burgers and Sandwiches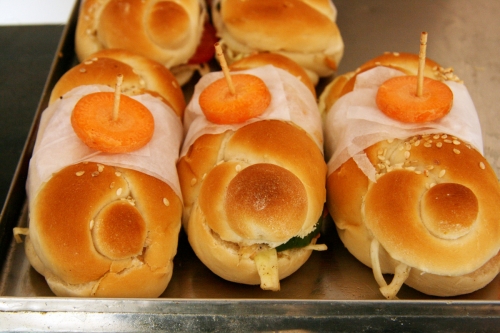 This section is a fast-food lover's delight, because it comes in so many varieties and tastes that you will have difficulty scouring the Sizzler Menu for your choice. In this section, you can order Grilled Chicken Club sandwich, Sizzler Burger, and Mega Bacon Cheeseburger to satisfy you fast-food craving.
World Famous Salad Bar
The hearty salad bar of Sizzler is what makes this restaurant stand apart from the rest. There are freshly prepared salads like Cranberry Spinach Salad, Greek Salad, and Seafood Salad. Besides, the bar also has exciting sides like the spaghetti and meatballs, chili and corn bread, and chicken wings. To end your dinner or lunch at a sweet note, there is the usual soft serve, served with toppings like chocolate and caramel sauces and various candies. You are even allowed to "create your own masterpiece" at the Sizzler.
The Sizzler Menu is a fun thing to read as well as order from because not only do you get to choose or create your own meals but the choices are many, which would keep everyone in the party happy.
Image Courtesy: thehungrycow.com, ifood.tv 
Sizzler Menu – Get Sizzlin' With Food