Golden Corral Menu
19 Oct 2011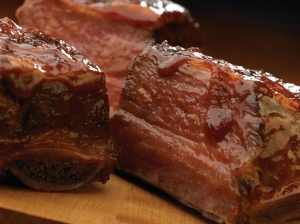 Real, wholesome foods in a family-friend atmosphere have been a tradition at the Golden Corral Restaurants throughout their four decade-long history. It is this quality and the huge Golden Corral Menu that has made this restaurant chain a well-known American buffet and grill outlet.
The Golden Corral Menu is seemingly endless and its chefs continue to offer new dishes on its menu for breakfast, lunch, and dinner. Be it the 15-protein rich dinner buffet, grilled to order sirloin steaks, or the lunch buffet comprising of home-style classics like pot roast (made over 12-hours), there are so many choices for the guests.
Golden Corral Menu - Everyday Items:
Assorted Steamed Vegetables: A healthy and sensible option, which gives a light start to any meal. You may order this dish alone or along with a main dish, just to complement the richness of a sirloin steak or a pot roast.
Awesome Pot Roast: This classic beef dish is given all the time and effort in the world so that when it arrives at your table, you get the gastronomic experience of a lifetime!
Baked Potatoes: Another delectable side dish, which is clearly everyone' favorite!
Bourbon Street Chicken: A chicken dish that qualifies for a perfect main course.
Clam Chowder: If you want a sumptuous start to your meal, which is equally healthy, go for a bowl of clam chowder. This chowder is not only filling but tasty and nutritious as well.
Coleslaw: A side of coleslaw goes well with almost everything and anything on the Golden Corral menu.
Fresh fruit: The best part of this menu is that the chefs not only take care of your taste buds but that of your calorie intake too. Therefore, along with rich food items, they have peppered the menu with healthier options like the fresh fruits as well.
Fried Chicken: Just when you thought the menu was harping too much on the health part, here is something to spoil yourself with. Yes! Fried chicken, which is by far the most popular American snack and we are not talking about just the Southern part!
Green Beans: Believe us, while reviewing this menu, we were happily surprised at the balance of good and bad (well, not really!) foods. By good, we mean the greens and fruits and by bad, we mean the fried chicken and sirloin steaks. Nevertheless, the green beans are a part of the good ones!
Grilled-to-order Sirloin Steaks: Served only during dinner time, these sirloin steaks are USDA standard and juicy just like you like them. Don't forget to order a side of green beans, just to suppress the guilt you will feel at eating something so delicious!
Macaroni & Cheese: How could we forget this classic comfort food, which never fails to uplift the spirits of even the most finicky of the eaters.
Mashed Potatoes & Gravy: Ummm, another side dish that will complete your main course perfectly!
Meatloaf: Order this meatloaf, sit back and enjoy the delicious and classic American taste. We bet you will be reminded of the leisurely weekend
meals that your mother or grandmother lovingly cooked for you during your college breaks.
Rotisserie Chicken: This dish takes its inspiration from the Greek cuisine and gives you juicy chicken pieces that are dripping with flavor!
Yeast Rolls: Order these delicious rolls, which you can team up either with clam chowder or eat it with a fresh green salad.
Desserts: Taking care of your sweet tooth, the Golden Corral Menu offers you a lot to choose from. You can have your pick up a slice either of banana pudding, carrot cake, chocolate cake, or fudgy brownies, phew!
The Golden Corral Menu gives you what you want to eat, in a homely, comfortable atmosphere, offering you an experience of a lifetime.
Image Courtesy: goldencorralelpaso.com 
Golden Corral Menu