In-N-Out Burger Menu
14 Oct 2011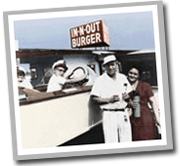 What can be faster than a burger? A burger on-the-go and you will get it at the In-N-Out Burger, a drive-thru hamburger stand, where you can feed your burger-fantasies to the hilt. Ever since the first In-N-Out Burger opened in 1948 in Baldwin Park, California, this drive-thru has been a go-to place for burger lovers. What makes this burger joint different from its counterparts is the freshest quality of hamburgers and the In-N-Out Burger Menu, which boasts of almost every variety of hamburger in town along with fresh French fries and shakes to go with.
In-N-Out's Not-So-Secret-Menu
The In-N-Out Burger does not make any extraordinary claims about its menu, which is an example of excellent customer service, in terms of providing what the customer likes best. Some of the most popular items on this menu are:
Double Meat Burger: This double whammy of a burger is made with 100% pure beef patties (two in number), lettuce, tomato, a spread of your choice, and with or without onions. All this is put inside a fresh bun and served.
3x3 Burger: This is one up on the Double Meat burger, with an additional beef patty and three slices of American cheese along with the usual paraphernalia.
4x4 Burger: For all those gluttons who can't have   enough of the patties, there is a double double whammy with the 4x4 Burger, where four beef patties are stacked high upon a fresh burger along with lettuce, tomato, a spread of your choice, and four slices of American cheese, yes, four slices!
Grilled Cheese: This is the classic cheeseburger with a grilled twist. Grilled slices of cheese, lettuce, tomato, a spread, and onions go into making this one.
Protein Style: Wanna have just a healthy treat for a change? No worries because In-N-Out serves that too in the form of this burger, which is basically "your favorite burger wrapped inside a lettuce leaf instead of bun." Healthy choice, ain't it?
Animal Style: Feed the carnivore inside you with this extra-meat challenge. This burger is made with your usual beef patty, which is mustard-cooked, and other paraphernalia associated with a tasty burger.
Since opening its first drive-thru in California, In-N-Out has come to own outlets in a lot of cities across America. To know where you can get your In-N-Out burger, go to their location guide.
Image courtesy: in-n-out.com 
In-N-Out Burger Menu