The Melting Pot Menu – For Conversation, Laughter, Togetherness
11 Oct 2011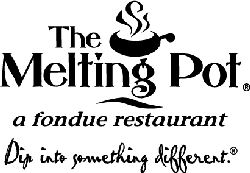 Are you a fondue fanatic? Are you always on the lookout for fondue parties? Are you the one who wants to keep on hosting fondue parties for friends and family? Your search ends at The Melting Pot. This restaurant prides itself in being called a "premier fondue restaurant" and offers you a dining experience like no other and the best part is the philosophy followed here, which is – conversation, laughter, and coming together.
The Melting Pot Menu makes for a unique and interactive dining experience, which you can share with your family and friends, right from the first piece of appetizer to the last piece of dessert that you enjoy with a variety of fondues served at The Melting Pot.
The Melting Pot Menu – A Look
The main attraction of this menu is the "Big Night Out Four-Course Dinner," which is a destination-themed meal planned around regional themes and flavors and it begins with a creamy cheese fondue, fresh salad, entrée, and chocolate fondue dessert. Read on to know more:-
Cheese Fondue
A deliciously creamy cheese fondue is prepared with The Melting Pot's unique and seasonal ingredients – fresh breads, vegetables, and apples, melted along with your choice of one or more cheeses. You can begin your "Big Night Out" by dipping pieces of bread into the smooth cheese fondue. Your choices of cheese fondue are as follows:-
Spinach Artichoke Cheese Fondue: Fontina and Butterkäse cheeses are melted with spinach, artichoke hearts, and garlic to come with an aromatic fondue, which will set your taste buds soaring with hunger.
Fiesta Cheese Fondue: The good ole' Cheddar cheese is mixed with lager, jalapeño, and salsa, add as much as you want to make it even more spicy. Sure to set your mouth drooling!
Wisconsin Trio Cheese Fondue: Three cheeses – Fontina, Butterkäse, and Buttermilk Bleu – come together with white wine, scallions, and a dash of sherry, to make a happy fondue, which you can enjoy to your heart's content.
Other popular fondue varieties served at The Melting Pot are:- Traditional Swiss Cheese Fondue and Big Night Out Cheese Fondue.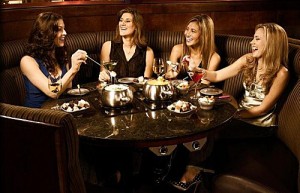 Salad
The Melting Pot understands that starting off with the cheese fondue may have a serious toll on your appetite that is why next in line on your "Big Night Out" is the salad, or fresh salads. Made with seasonal ingredients, you can enjoy each of these salads with one of The Melting Pot's homemade dressings. You can order from among the following:-
The Melting Pot House Salad: Crunchy iceberg lettuce and romaine, Cheddar cheese, tomatoes, croutons, and egg slices are mixed with the peppercorn Ranch dressing or the sweet and tangy House dressing. An entirely delectable salad you can enjoy at leisure.
Spinach Mushroom Salad: Mushroom is an all-time favorite of diners throughout America because it packs in the chunkiness of meat and the goodness of vegetables. It is this combo that comes together with fresh spinach, red onion, bacon, and Roma tomatoes, all drenched in the warm Burgundy Shallot Vinaigrette.
Caesar Salad: Crispy Romaine, shredded Parmesan cheese, croutons, Caesar dressing, and a handful of Parmesan-encrusted pine nuts come together to form a light, breezy offering of salad, which you can fill your stomach with on your "Big Night Out."
Other offerings on the salad menu are:- California Salad and Big Night Out Salad.
Entrée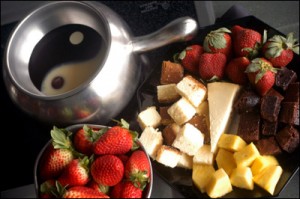 Did we hear someone yell "Yippeeeee!", well that is the official reaction whenever the waiter brings you your entrées on your Big Night Out. Made with a variety of steak, chicken, and seafood, and served with dipping sauces and vegetables on the side, the entrées are an experience in itself.
The French Quarter: This is Filet Mignon, chicken breast, and tender shrimp seasoned in Cajun spices.
Seafood Trio: This is Tender shrimp, sesame-encrusted and sushi-grade ahi tuna, and cedar-plant salmon.
Shrimp & Sirloin: This is Tender shrimp and sirloin marinated in teriyaki.
Cedar Plank Salmon: This is The Melting Pot's version of the American classic, served with a balanced smoky flavor.
The Vegetarian: This is for all those vegetarian devourers out there who need not sulk on the non-vegetarian fare spoken about so far. You can choose from among:- Edamame or onion rings, artichoke hearts, Portobello mushrooms, Thai-peanut-marinated tofu, asparagus, spinach artichoke ravioli, and the Big Night Out pasta.
Entrée Cooking Styles
The entrées are cooked in four different, but equally unique Melting Pot traditional styles, which are:
Coq au Vin: The flavor in this one comes from fresh herbs, mushrooms, garlic, spices, and burgundy wine.
Court Bouillon: This is the good old classic, homemade, seasoned vegetable broth.
Bourguignonne: Borrowed from the European kitchens, this fondue is cholesterol-free and contains zero trans-fat oil.
Mojo: Get back the mojo in your entrées with this Caribbean-seasoned bouillon with a distinct fresh-garlic flavor and a dash of citrus.
Entrée Sauces: You can choose the following choices of sauces to cook your entrées in: Curry (mild-yogurt-based), Green Goddess (packed with green goodness of onions, chives, and parsley), Teriyaki Glaze (glaze of garlic, ginger, and onions), and Gorgonzola Port (a rich and robust cheese sauce).
Chocolate Fondue
The ultimate finale to your "Big Night Out" can only be with the chocolate fondue, which is made with the most delicious chocolates and served with dippers like fresh strawberries, rice krispies, pound cake bites, bananas, cheesecake, marshmallows, and brownies. Your choices are:-
Big Night Out Chocolate Fondue
The Original
Flaming Turtle
Pure Chocolate
Bananas Foster
Yin & Yang
Chocolate S'mores
So, whether you have a birthday, anniversary, a girls' night out or a romantic date to keep, The Melting Pot is the place to be. The only thing you need to keep in mind, that you have a lot of cash in your pocket, because the prices are seriously steep!
Image Courtesy: talk-food.com, snagajob.com, thelvscene.com, funfashionafew.blogspot.com, fondue-pot-sale.blogspot.com
The Melting Pot Menu – For Conversation, Laughter, Togetherness