Heston Blumenthal's Fat Duck Has 30,000 Callers Everyday!
10 Oct 2011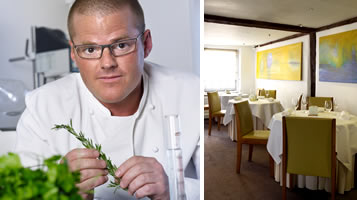 The news is out, Heston Blumenthal's restaurant - Fat Duck, which sits smugly with 3 Michelin stars in Berkshire gets about 30,000 calls a day. Many callers, calling as far as Australia, are willing to shell out the big money only to get a taste of his experimental molecular gastronomy cooking.
The computer system at the Fat Duck monitors the total number of calls received per day that fail to get through each day. The resulting figure is quite staggering – 28,000 to 31,000! Blumenthal says that the figures have doubled in the past 2 years. Fat Duck at the moment just allows 2 sittings a day and has only 42 chairs for the guests, and the restaurant only takes bookings two months ahead of time. That explains the fuss, plus experimental dishes like the egg and bacon ice cream, and snail porridge and salmon poached in liquorice only add to the madness.
For many of the diners, coming into the Fat Duck is the 'once-in-a-lifetime' eating experience. The cost of the wacky and exciting dishes are definitely NOT pocket friendly for the Average Joe. The a la carte menu would cost £80 and their popular tasting menu costs £115..
This self-taught chef's restaurant witnessed the worst case of food poisoning in 2009. About 500 diners became ill after consuming the ill fated contaminated oysters. With that incident, the Fat Duck nose dived financially, and yet it has managed to come back and soar high. "It has just been going up and up," said Blumenthal whose popularity continues to increase by the day as he appears in many top cooking shows.
Image Courtesy: justtheplanet.com
Heston Blumenthal's Fat Duck Has 30,000 Callers Everyday!