Round Table Pizza Menu - Topped To The Hilt
3 Oct 2011
The first thing you notice about a Round Table Pizza (RTP) is that it is actually covered in toppings till its ends, unlike the pizzas served elsewhere. However, the Round Table Pizza Menu tells you that there is a lot more to this restaurant than just perfectly topped pizzas. Read on if you don't believe us:
Premium Specialty Pizzas
King Arthur's Supreme: As the name suggests, this pizza is a feast fit for royals. It comes loaded with pepperoni, Italian sausage, dry salami, linguica, white mushrooms, green peppers, yellow onions, black olives, AND a blend of 3 cheeses. All this is topped with the restaurant's Zesty Red Sauce, with shrimp, and anchovies if you request so.
Montague's All Meat Marvel: This pizza is an ideal choice for the meat lover, who likes to gorge upon everything "meaty." The toppings are that of Italian sausage, pepperoni, Italian dry salami, and linguica. Besides, it is slathered in RTP's signature Zesty Red Sauce.   
Guinevere's Garden Delight: Okay, so you are not a meat-lover but a veggie-lover. No problem. The RTP serves you this pizza, which is topped with a lot of veggies and is deliciously baked in a blend of 3 cheeses, topped with the Zesty Red Sauce.  
Maui Zaui: A surprising taste, which comes from tender ham, crisp bacon, juicy chunks of pineapple, Roma tomato slices, and red and green onions atop this pizza. The 3-cheese blend and the Zesty Red Sauce are a common factor here as well.
BBQ Chicken Pizza:  There is no combo as good as the BBQ flavor on a pizza. The toppings are sumptuous enough to keep you satiated. The sweet and tangy BBQ sauce is an add-on.
Create Your Own
Wanna take matters in your own hands as far as your pizza is concerned? Well, The RTP chefs wouldn't mind that too. That is why you are given a chance to "Create Your Own Pizza", with the following specifications.
Sizes: Choose to make personal, small, medium, large or extra large pizza sizes, which you can enjoy alone, with family or friends, depending upon your specifications.
Crusts: You can choose from among original, pan or skinny crusts.
Sauces: You are, by now, familiar with the Zesty Red Sauce but the RTP has much more to offer, like Creamy Garlic, Polynesian, and Pesto sauces.
Meats: Strictly for non-vegetarians, they can have their fill of meats at RTP restaurant. Your choices are: salami, bacon, ham, linguica, pepperoni, primo pepperoni, Italian sausage, grilled chicken, anchovies, and shrimp, phew!!!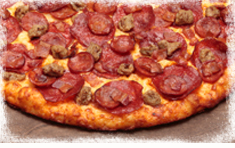 Veggies: Vegetable lovers need not worry after reading the previous point. They will also be well cared for, as is visible in the choices of vegetables that they will have to choose from: black olives, spinach, zucchini, onions, Roma tomatoes, Artichoke hearts, white mushrooms, pineapple, green peppers, chopped/roasted garlic, and jalapenos.
Appetizers
If you are out for a light evening snack and happen to stumble into the RTP restaurant, you can safely order one or more of these appetizers, with your favorite beverage and chill out after a hard day's work. Your choices are: Garlic Parmesan Twists, and Buffalo Wings.  
Salads
The choice in the salad section is a little limited, with Garden Salad and Caesar Salad being your only choices.
The Round Table Pizza Menu is wholly devoted to pizzas, so if you are going there to have something of a meal, then you will have to limit yourself to just pizzas because there is not much choice in any other section. However, let this be said that the pizzas served at RTP are fully loaded with toppings and once you bite into it, you will not wish for anything else.
Image Courtesy: roundtablepizza.com 
Round Table Pizza Menu - Topped To The Hilt