Cosi Menu - Where Food Is Fuel
3 Oct 2011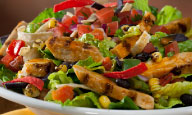 Cosi restaurant has just one motto – "If life is a journey, food is the fuel that lets us keep exploring what's ahead" – and the Cosi Menu makes sure that you are fuelled enough for wherever your life journey is going to take you. Not only is the food delicious, but the "Cosi ambience" is ... well quite cosy to make your dining out experience memorable. Here's a peek at the menu:
BREAKFAST
Breakfast Wraps: The Cosi breakfast wraps are available in three yummy combinations – Santa Fe, Spinach Florentine, and Roasted Veggie & Egg White. These wraps are enough to satisfy your breakfast hunger but if you want more, you have other choices as well.
Oatmeal: Irish, steel-cut oats, perfectly cooked, and sweetened with brown sugar and finished with any two of the following toppings: pistachios, Cosi Break Bar bits, raisins, fresh strawberries, dried cranberries, whipped cream, brown sugar, and granola.
Signature Squagels: We bet you don't eat these at home for your breakfast but Cosi chefs want to treat you to something special for the most important meal of the day. The squagels offered at Cosi are available in three flavors: Basil Parmesan, Chocolate Chip, and Jalapeño Cheddar.
SALADS
Signature Salad: The Cosi signature salad is made with greens, tossed in with red grapes, Gorgonzola, pistachios, etc, and dressed in sherry shallot vinaigrette. The freshness of the greens, the tanginess of grapes and vinaigrette, and the rich flavor of pistachios makes this salad an irresistible combination.
Adobo Lime Chicken Salad: Wanna have a shot at some more tanginess, then go for this Latin-inspired salad, which comes loaded with adobo-rubbed chicken. To balance the flavor, there is corn, beans, peppers, and pico de gallo. You will love the flavor, we bet.
Greek Salad: Not much appetite for the Latino, don't worry. Cosi offers a Greek option to choose from. This Greek Salad is already a popular choice among the restaurant patrons, not the least because the highlight of this vegetarian salad is its flavourful Kalamata olives. Tossed in some Italian vinaigrette, you will love this salad too.
SOUPS
Tomato Basil Aurora: Nothing like the good ole' tomato soup, right? Well, the Cosi chefs have gone a step further and added fresh basil and a touch of cream to make this soup simple, yet sweet enough to tingle your taste buds. 
Pollo e Pasta: This soup works as a perfect accompaniment to a sandwich or salad and since it has come to be so popular among the Cosi regulars, the restaurant offers this choice everyday of the week.
Flatbread: Here is something you can order with your soups or salads and enjoy a complete meal. This flatbread is an ideal choice for scooping sharables or eating just as it is.  
SEASONAL ITEMS
Prosciutto Olive Chicken Melt: To bring a fresh flavor to the menu, Cosi chefs brought in this dish, which has thinly sliced prosciutto and three olive tapenade joining hands to present a flurry of flavors.
Greek Chicken Flatbread Pizza: A vegetable mix, loaded with cheese in the form of melted Mozzarella and crumbled Feta, is also layered with the Cosi's homemade tzatziki sauce. You will have to have a strong resolve to face the flavor burst offered in this pizza.
BEVERAGES
The beverage section of the Cosi restaurant menu is humble to say the least. Nevertheless, the choices are unique in themselves and would prove to be the perfect company to whatever meal you choose for your dining out experience at the Cosi. You can choose from among: Guatemala Verapaz Coffee, Hot Apple Cider, and Watermelon Habanero Lemonade.
So, that is it about the Cosi menu. We hope that you will enjoy reading about it as much as you will surely enjoy the actual meal when you visit a Cosi restaurant soon.
Image Courtesy: getcosi.com 
Cosi Menu - Where Food Is Fuel