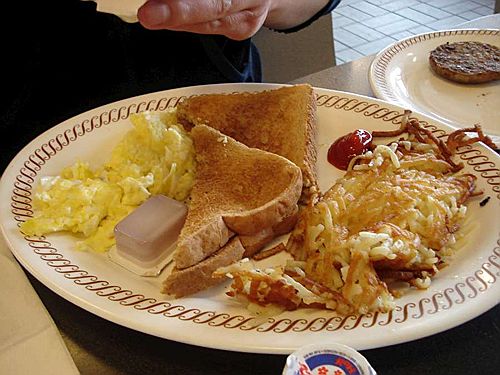 "We are not in the food business...We are in the People business," proclaims Joe Rogers, Sr., who is Co-founder of the Waffle House Inc. He and Tom Forkner had only one mission in life, which was to deliver a unique experience to their customers through "great food, friendly, attentive service, excellent price, and a welcoming presence." Starting with the Waffle House Menu, we have to say that both of them kept their promise to their customers. Have a look:

The Waffle House Menu can be clearly divided into three main sections:



Breakfast




Lunch/Dinner




Classic Meals

We begin with the breakfast:



BREAKFAST

Waffles: You will enjoy a typical American breakfast starting with waffles, flavored in a variety of flavors and served with sausage or bacon, city ham, and eggs. The waffles are available in apple cinnamon oat, chocolate chips, pecans, and blueberry or strawberry flavors.

Eggs: Who doesn't like eggs in breakfast? We all do, right? Well Waffle House chefs know that too. That is why they serve you eggs as well as omelettes.

Steak & Eggs: More eggs and this time you can have the steak too. In this section, you can order a Ribeye, T-bone, New York Strip or Country ham with your eggs.

Texas Biscuits & Gravy: Order one or two Texas Biscuits with sausage gravy.

Breakfast Wraps: Wanna have some filling breakfast, try these wraps. You can order sausage egg and cheese wrap or bacon egg and cheese wrap. If you are feeling greedy, you can ask for hashbrowns to be added to the wrap.



LUNCH/DINNER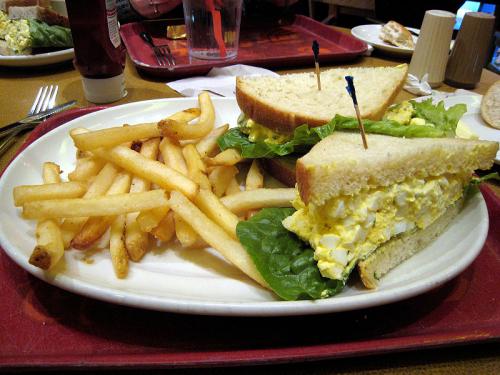 Texas Melts: These Texas special items will blow you away so order with caution. In this section, you can order Texas cheese steak, Texas Angus Steak, Texas Angus Patty or Texas Grilled Chicken.

Wraps & Sandwiches: Your favorite wraps and sandwiches also form a part of the Waffle House Menu. Go for a Bacon Chicken Cheese, Grilled Chicken, Ham & Cheese or Texan Bacon Lover's sandwich.

Steaks: Wanna go for a sumptuous, filling dinner or lunch? Try any of the Ribeye, T-bone or Sirloin Steaks. All steaks are served with a garden salad, hashbrowns, and Texas toast.

Chili & Soup: We hear that the Texan meal is incomplete without a bowl of hot chilli. No worries because the restaurant also serves some great chilli dishes like Bert's Chili, Bert's Best Bowl of Chili, and Walt's soup, which is available only between October and April every year.

100% Angus Burgers: The Waffle House burgers are made with 'meaty' ingredients and served with pickles, mayonnaise, and from among lettuce, tomato or grilled onions, inside a grilled, buttered bun.

CLASSIC MEALS

Classic meals are a grand combination of individual meals served over different times of the day. Whether it is eggs, ham, waffles, sausage, steaks, sandwiches, omelettes, salads, whatever, you will be treated to a royal meal. Here are your choices: Bacon, City Ham Or Sausage, Ribeye Steak dinner, Toddle House ham & Cheese Omelette, Cheese N Eggs with Bacon, and Meat Lovers Pork Chop dinner.

The Waffle House Menu is an awesome mix of meals, combo meals and sides, which you must taste when given a chance. We assure you, you will not regret it.

Image Courtesy: biggestmenu.com, ifood.tv, fivespiceduck.blogspot.com, dealwatchblog.com