California Pizza Kitchen Menu: From Old Taste To New
13 Sep 2011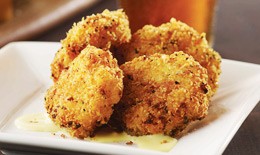 From opening its first restaurant in Beverly Hills in 1985 to being a legendary pizza chain, the California Pizza Kitchen (CPK) has come a long way. One look at the California Pizza Kitchen Menu and you know why it is a global brand today with presence at more than 250 locations in 11 countries. CPK owners, Rick Rosenfield and Larry Flax have combined their passion for food with quality ingredients to come up with such original and innovative choices in pizza like "The Original BBQ Chicken," "Thai Chicken," and "Jamaican Jerk Chicken."
In case you are planning a dining out experience for family, friends or colleagues, go through this blog and be ready for a tasty experience at CPK:
NEW MENU ITEMS
This section of the menu contains all recently-launched dishes and though, each dish is a classic in itself, the chefs have tried to create something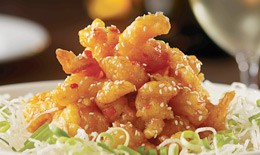 new with each of these. You can pick from:
Crispy Mac 'N' Cheese: The classic mac 'n' cheese is given a crispy avatar after being lightly fried with panko, and served with a creamy cheese sauce.
Spicy Chicken Tinga Quesadilla: Get the Mexican flavor with this dish, which is made with lime chicken baked in hearth, Queso Quesadilla, and Enchilado cheese, mixed with chipotle sauce, caramelized onions, roasted bell peppers, black beans, and cilantro. This Mexican delight is best enjoyed with some homemade ranchito sauce.
Korean BBQ Steak Tacos: Everybody loves steak and everybody loves tacos too, that is why the California Pizza Kitchen chefs have tried to bring together these two flavors and pair them with the Korean-style of cooking, to give you a dish you will want to eat again.
APPETIZERS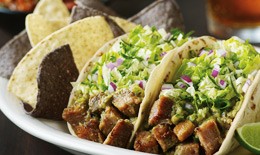 Dynamite Shrimp: Shrimp is lightly fried and then tossed into a spicy sweet chilli sauce along with some scallions, and garnished with toasted sesame seeds. You will love the shrimp presented in this new style.
Avocado Club Egg Rolls: We all love to have egg rolls whenever we feel a little snack-hungry. Playing on this weakness of ours, the CPK chefs have created these rolls with a twist. These are made with avocado, chicken, tomato, Monterey Jack and bacon smoked on apple-wood. All this inside a crispy wonton roll is served with homemade ranchito sauce.
Lettuce Wraps: Tasty lettuce wraps are filled with minced chicken or shrimp, then seared in a wok along with Shiitake mushrooms, water chestnuts, and scallions. These wraps are then served with spicy soy-ginger sauce. The best thing about these wraps is that they are cooked through and not raw, unlike other wraps, served in other restaurants.
SALADS
Those among you who are mad about health factor of the food they eat while dining out, here are some choicest healthy options: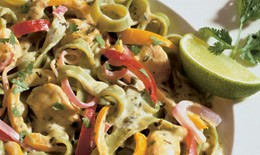 The Original BBQ Chicken Chopped: Chicken, basil, sweet corn, black beans, these ingredients come together in a healthy combo with tortilla strips and Monterey Jack for company. You can enjoy this salad with homemade herb ranch dressing.
Caramelized Peach: You may think that with caramelized peach, this salad may  not be so good an option, but we assure you that the field greens, spinach, dried cranberries, red onions, toasted pecans, and Gorgonzola, when tossed in white balsamic vinaigrette, and served with peach will surely make you change your mind.
Roasted Vegetable: This salad is a great option to choose if you want to keep an eye on your calorie count. With roasted artichoke hearts, asparagus, eggplant, red & yellow peppers, and sun-dried tomatoes are warmed and served over Romaine, slathered in homemade Dijon balsamic vinaigrette. Enjoy this salad!
PIZZAS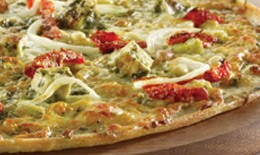 The pizzas served at California Pizza Kitchen are unique in taste and toppings. When you order one, you are surely going to order another one. The pizzas are made with fresh dough and fresh toppings, which are baked to perfection. You can choose from the following:
Habanero Carnitas: pulled pork, cilantro pesto, Mozzarella, red onions, and Queso Quesadilla cheese.
California Club: bacon smoked on applewood, chicken, and Mozzarella; tomatoes avocado, and chilled lettuce, tossed in mayonnaise.
Jamaican Jerk Chicken: those who love their pizzas a little spicy will definitely opt for this one, which has jerk chicken, spicy sweet Caribbean sauce, Mozzarella, smoked bacon, onions, bell peppers, and scallions.
PASTA
Chicken Tequila Fettuccine: Spinach fettuccine is mixed with chicken, bell peppers, red onions, and cilantro; to which is added tequila-lime jalapeno cream sauce.
Asparagus + Spinach Spaghettini: Asparagus is sautéed, mixed with spinach, fresh tomatoes, basil, garlic, and Parmesan. You can even order this pasta with grilled chicken breast or shrimp or sautéed salmon.
Jambalaya: This pasta is loaded; blackened chicken, shrimp, crawfish, Andouille sausage, and Tasso ham on linguini fini are cooked in spicy Jambalaya sauce and served topped with scallions.
DESSERTS
This is the most decadent section of the California Pizza Kitchen Menu. The varieties in this section are simply delectable and you will be left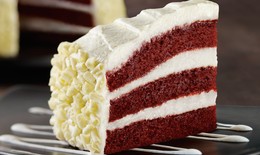 feeling full after having a bite. Take a look:
Chocolaté Souffle Cake:  Souffle cake made of warm Belgian chocolate is served with a triple-layered hot fudge. Ready to dive in?
Red Velvet Cake: Although this one is already a traditional favorite, still, you will find it a fresh choice as it is served frosted with vanilla bean cream cheese and decorated with white chocolate curls.
Key Lime Pie: You will enjoy a little different taste of this pie, which is made with key limes on a graham cracker crust and served layered with fresh whipped cream.
The California Pizza Kitchen Menu is a delightful way to introduce your family and friends to the new tastes and old. Try it soon and enjoy!!!
Image Courtesy: cpk.com 
California Pizza Kitchen Menu: From Old Taste To New