Bonefish Grill Menu
11 Sep 2011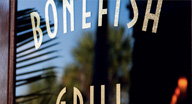 The Bonefish Grill restaurant has only one motto – that is to help you celebrate each day starting with your favorite food. The first step to make it possible is to offer some uniquely inspired dishes made from some of the freshest ingredients and cooked over a wooden grill. To know more about it, take a look at the Bonefish Grill Menu:
Grilled Fish
Grilled fish dishes are not only a good way to enjoy the natural flavor of the fish but also a means to stay healthy while relishing your favorite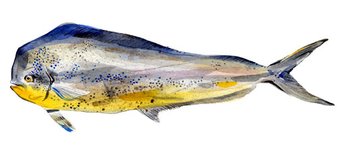 meals. This section of the restaurant menu helps you do just that. The choices in this section are:
Dorado (Mahi Mahi): The fillets are ivory-colored and the meat is sweet, tender and comes off to your fork in moist flakes. You will not forget the firm texture of this dish in a hurry.
Chilean Sea Bass: The rich, melt-in-the-mouth taste of this fish will leave you wanting for more.
Gulf Grouper: Another versatile fish with a clean flavor. You will not regret ordering it for a meal, especially if you like white meat.
Each grilled fish can be enjoyed either with a sweet n zesty mango salsa prepared fresh by the chefs or the hot n tangy chimichurri sauce. The classic lemon butter can also be an ideal choice, especially if you are looking for a delicate flavor to complement your grilled fish.
Grilled Specialties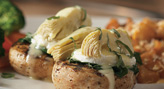 Other than the fish, Bonefish Grill also serves up many other items, which you can enjoy grilled, with sides and sauces. Your choices would be:
Lily's Chicken: Grilled chicken breast, smoldering goat cheese, sautéed spinach, artichoke hearts, all served up with lemon basil sauce.
Fontina Chop: Boneless pork chop is paired with Fontina cheese, garlic seasoning, prosciutto, and served slathered with mushroom Marsala wine sauce.
Chicken Marsala: Grilled chicken breast and mushrooms are served with prosciutto marsala wine sauce.
Sauteed & Baked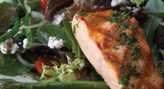 Pecan Parmesan Crusted Rainbow  Trout: The well-crusted rainbow trout is served with artichoke hearts, with some fresh basil sprinkled over. The lemon butter added on the top brings a delicate touch to the dish.
Imperial Longfin: This royal delicacy is stuffed with shrimp, scallops, crab meat, pan-seared, and baked and served with a topping of lemon caper butter.
Maryland Crab Cake Dinner: Crab cakes have always been a favorite for diners. What's better is that two thick, broiled Maryland-style crab cakes are served drenched in a red remoulade sauce.
Starters & Sharing
Bang Bang Shrimp: Seafood-lovers will rejoice on reading that this dish is made with tender, crispy shrimp tossed in a creamy, spicy sauce.
Edamame: Tender green soybeans are steamed and seasoned in a delicate sauce, which offer a delicious respite from the rich dishes on the Bob Evans Menu.
Singapore Calamari: Tender pieces of calamari are flash fried and peppers are tossed in. This dish is then covered in a sweet and spicy Asian sauce.
Hand Helds
Wanna eat something that is less messy and more fun to eat? Go for these hand helds at Bob Evans. Here are your choices:
Grilled Fish "Burger": The longfin tilapia fillets are wood-grilled, dusted with Parmesan shavings, and served on a buttery, brioche bun.
 "American Style" Kobe Beef Burger: The Kobe beef burger is served on a soft brioche bun, along with lettuce, tomatoes, onions, pickle, special sauce. The cheddar sauce gives the final touch to this burger.
Bang Bang Tacos: As the name suggests, this dish actually explodes with a bang in your mouth. You are served two tortillas filled with Bang Bang shrimp, crisp lettuce, diced tomatoes, and a dollop of sour cream.
Other dishes in this section are Baja Fish Tacos and Sir Will's Fish & Chips.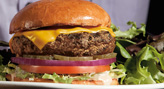 Soup & Greens
Corn Chowder with Lump Crab: Generous lumps of crab meat are cooked and served in classic corn chowder.
Bonefish Caesar: Crisp romaine and garlic croutons made just like at home are served garnished with aged Parmesan cheese. You can even request the restaurant to serve it decorated with sliced anchovies.
Bonefish House Salad: It is a very healthy option for those who are keen to eat right even when dining out. This salad is made with crisp greens, spring mix, hearts of palm, Kalamata olives, and ripe tomatoes, tossed in citrus herb vinaigrette.
Florida Cobb Salad: Jerk chicken, crisp greens, avocado, mango, tomatoes, and Danish Blue cheese are tossed in citrus herb vinaigrette to make this delightful salad.
Beverages
The Bonefish Grill's dedication to serve fresh ingredients does not end with its meals and the restaurant's bar also follows the "fresh" philosophy. Right from the hand-squeezed juices and fine herbs to regionally sourced beers and small-batch bourbons, the bartenders make sure that whatever is served to you at Bonefish Grill Bar is fresh and delicious. You can choose from among the following:
Pomegranate Martini: This is perhaps the most popular martini ordered at the restaurant bar. It is made as a home-made infusion of Fris vodka, pomegranate, and fresh mango.
Apart from martinis, the bar serves wine, and brown whiskey.
To sum up, the Bonefish Grill Menu offers a complete range of dining out experience, which is a must to be enjoyed with your family and friends.
Image courtesy: bonefishgrill.com 
Bonefish Grill Menu