Baja Fresh Menu
9 Sep 2011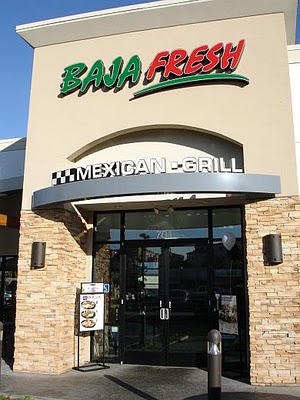 Wanna go Mexicana Amigos? Well, here is your chance to do so at the Baja Fresh restaurant. The first thing that you notice about the Baja Fresh Menu is that it is all Mexican and fresh. All the Mexican favorites of America are served here big, delicious, and fresh – be it the freshly prepared meats or freshly grilled tortillas. Get ready to be treated at a place where the chefs and the owners understand what you like to eat and how you want it. Soon, you would also be singing – "Be Bold, Be Fresh, Be Baja."
Have a look at the Baja Fresh menu
Burritos & Bowls
The Baja Fresh restaurant prepares all its burritos with unique grilled tortillas, which you can customize to your preference at the restaurant's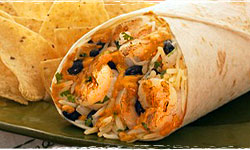 fresh Salsa Bar. Tortilla chips come complimentary with all the burritos. You can pick out of:
Diablo Shrimp Burrito: You get to taste a warm, soft flour tortilla filled with lime-garlic marinated grilled shrimps, tossed with Black beans, Baja rice, Jack cheese, and a deliciously smoky and spicy chipotle sauce.
Nacho Burrito: Another tasty tortilla treat made with chicken, Jack & Cheddar cheese, black or pinto beans, rice, smoky Queso Fundido, jalapenos, and Salsa Crema. You will want some more!!!
Burrito Ultimo: You can have your pick from among charbroiled chicken, pork carnitas, or charbroiled steak; mix it with grilled peppers, chillies, onions, melted jack, and cheddar cheese. This tortilla is served with a dollop of sour cream as well.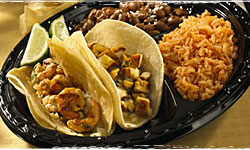 Original Baja Taco: Once again, you can choose from among charbroiled steak or chicken or pork carnitas and eat it with salsa, onions, and cilantro inside a warm, grilled corn tortilla.
Americano Soft Taco: Again, a choice between chicken, pork carnitas, or steak, served in a grilled flour tortilla made just like at home. Alongside you get lettuce, chopped tomato, jack and cheddar cheese, and salsa.
Mahi Mahi Taco: This is a crispy offering on the menu, where the fish is hand-breaded and fried, and served topped with cabbage, Pico de Gallo, and a tangy dressing. You can also order Mahi Mahi Taco – Grilled.
Baja Favorites
Quesadilla: One of the most popular items on the Baja Fresh menu, these are grilled flour tortillas stuffed with Jack cheese, melted to taste, and a choice between charbroiled chicken or steak or pork carnitas, served with handmade guacamole, Pico de Gallo and a dollop of sour cream.
Other things on offer in this section are Nachos, Fajitas, and Chicken Taquitos.
Salads & Soup
Are you a health fanatic? Well, so is this restaurant, at least, partly. You get fresh salads with choices of delicious dressings and soups that are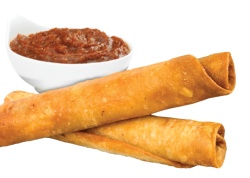 made to order. There are following choices:
Mango Chipotle Chicken Salad: This is a very interesting salad, which is served inside a tortilla shell, which is filled with romaine lettuce, chicken bits, avocado pieces, Cotija cheese, mango salsa, and chipotle glaze.
Baja Ensalada with Chicken: Shredded romaine lettuce, tomato slices, Cotija cheese, Pico de Gallo, and tortilla strips are served drenched with your choice of dressing.
Fire-Grilled Chicken Caesar Salad: This salad is same as the Mango Chipotle chicken salad, except for there is no mango, but fire-grilled chicken, instead. This salad is served with Cilantro Caesar dressing.
Kids' Faves
The kids are gonna freak out at what the Baja Fresh has to offer to them. Each of these items is served with rice, applesauce, and a choice between juice, milk, or soft drink. The kids can choose from the following:
Mini Cheese Quesadilla
Mini Bean and Cheese Burrito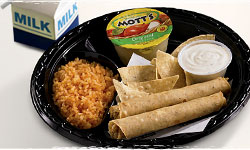 Sides
Wanna add some great sides to your Mexican meal at this restaurant? Here are your options:
Smoky Queso Fundido
Pronto Guacamole
Side Salad
Desserts
The Baja Fresh Menu is an entire Mexican saga in itself, which will make your dining out experience even more fun, especially when you enjoy it with your family and friends.
Image Courtesy: bajafreshmenu.com 
Baja Fresh Menu