Quiznos Menu: A Delectable Choice Of Subs, Salads And More
24 Aug 2011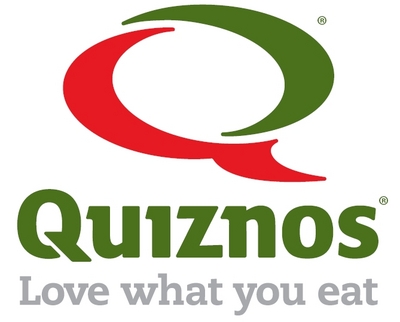 It all started 30 years ago in Denver, where a little sub shop was opened with some bold ideas, which churned great food with ingredients of the highest quality. The Quiznos' punch line "We Dare To Be Different" is reflected sufficiently in the Quiznos Menu, which allows the patrons to order according to their personal choices.
Subs Menu
Starting with the Subs, the Quinos Menu serves these subs on a wide range of breads like Italian White, Artisan Wheat, Rosemary Parmesan, Chipotle Jack, or Whole Grain Flatbread.
This sub comes loaded with ham, salami, pepperoni, capicola, mozzarella, black olives, lettuce, tomatoes, onions, and Red Wine Vinaigrette.
Pork Cuban
You get pulled pork, ham, Swiss, pickles, yellow mustard, and mayo in this sub.
Ultimate Turkey Club
Turkey, bacon, cheddar, lettuce, tomatoes, and mayo come together to make this sumptuous sub.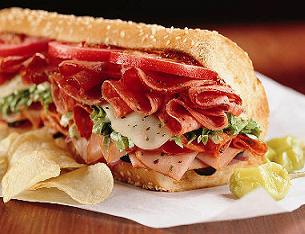 Honey Bourbon Chicken
A delectably different taste of this sub is because of the honey bourbon mustard spread over Chicken, lettuce, tomatoes, onions, and zesty Grille Sauce.
Torpedoes
As the name suggests, the torpedoes are a blast of taste, not to mention that these are shaped like torpedoes and served on Quiznos' slim and soft deli baguette.
Adorned with basil pesto sauce, this torpedo is made with turkey, mozzarella, lettuce, tomatoes, and Red Wine Vinaigrette.
Tuna Melt
This melting torpedo is build with tuna salad, cheddar, lettuce, tomatoes, and mayo.
Beef, Bacon & Cheddar
Roast beef, bacon, cheddar, lettuce, tomatoes, mayo, and yellow mustard form a delicious combination inside a torpedo.
Salads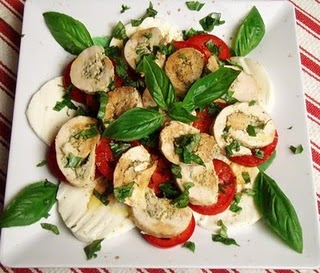 Caprese Chicken
Wanna try something healthy? Have a salad made with chicken, fresh mozzarella, basil pesto, tomatoes, and Italian cheese blend. The Quiznos suggests you try fat-free balsamic vinaigrette with this salad.
Cobb
This classic salad comes loaded with chicken, bacon, hard-boiled eggs, bleu cheese, and tomatoes, which can be enjoyed with ranch or blue cheese dressing.
Mediterranean Chicken
With this salad, you get chicken, Italian cheese blend, garbanzo beans, tomatoes, black olives, banana pepper rings, and cucumbers, dressed with tzatziki dressing.
Flatbread Sammies
These flatbread Sammies are served on Quiznos' soft & toasty flatbread.
Smoky Chipotle Turkey 
This Sammie is made with turkey, cheddar cheese, lettuce, tomatoes, and Chipotle Mayo.
Chicken Bacon Ranch
This delectable combination is made with chicken, bacon, Swiss, lettuce, tomatoes, and ranch Dressing.
Cantina Chicken
Once again, the sweet n spicy taste of honey bourbon mustard is drizzled over chicken, tomatoes, mushrooms, and sautéed onions in this sumptuous Sammie.
Roadhouse Steak
Just as the name suggests, this "steaky" delight comes loaded with roast beef, mushrooms, sautéed onions, and the Sweet & Spicy Steak Sauce.
The Quiznos Menu is simple and straightforward, just like the dishes served at the restaurant. Make a note of this and the next time you visit this restaurant, you know what to order.
Image Credit: listofshit.com, blogs.westword.com, cookingwithkrista.blogspot.com 
Quiznos Menu: A Delectable Choice Of Subs, Salads And More