A Sneak Peek At Applebee's Menu
11 Aug 2011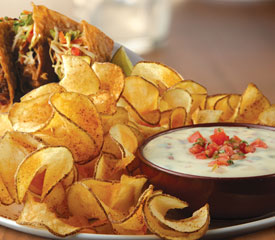 It is the largest casual dining chain in the world but that is not what makes the Applebee's a popular restaurant throughout the US. If you take a look at the Applebee's Menu, you will see the wide variety of dishes on offer, which will make your mouth water and force you to plan your next birthday or office party at the Applebee's.
Appetizers
You can have your pick from the Spinach & Artichoke Dip, boneless buffalo wings, Queso Blanco or crunchy onion rings to start your meal at the Applebee's. All the dishes are classic but at this restaurant, you will find a new twist to each one.
Stacked, Stuffed & Topped
Florentine Topped House Sirloin
This classic signature sirloin is grilled to order, along with roasted red peppers, sliced mushrooms, onion, fresh spinach, and bruschetta. It is, then, topped with garlic and herbs and served over fried red potatoes. Sounds yummy, no?
Chicken Parmesan Stack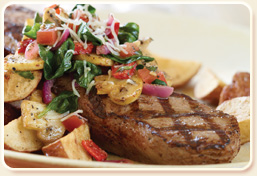 You read stack and you feel this should be sumptuous for your family on a night out. Well, you are absolutely right because this dish comes as country-fried chicken stuffed with Italian cheeses and slathered in spicy marinara, which is an Applebee's speciality. It is then served on top of a bed of fettuccine with roasted garlic Alfredo, onions and peppers for company. You can order toasted garlic bread to wipe your plate.
Bruschetta Topped Chicken Salad
To keep matters light in this section, you can order grilled chicken breast on a bed of crisp romaine tossed with champagne vinaigrette and sprinkled with bruschetta. On the side, the restaurant serves red onions, roasted red peppers, juicy tomatoes, basil, kalamata olives and garlic.
Sizzling Entrees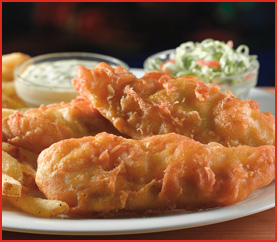 Bourbon Street Chicken & Shrimp
This dish is made with cajun-seasoned chicken breast, grilled and served on a sizzling skillet, topped with blackened-seasoned shrimp, garlic, and thyme. It is, then, served with crispy potatoes, sautéed onions, and mushrooms.
Sizzling Smokehouse Chicken Stack
Once again, grilled chicken breast forms the base of this dish, but this time, it is seasoned with BBQ spices and topped with shaved ham, Applewood smoked bacon and melted cheddar cheese. The chicken is served atop two corn cakes and a cheesy corn on the side.
Sizzling Cajun Steak & Shrimp
As the name suggests, this dish is served sizzling hot and it contains a 7 oz. house sirloin grilled with blackened seasonings and served over sautéed onions and red peppers. It is served with a side of red beans and rice with andouille sausage.
Under 550 Calories
This is an innovative portion of the Applebee's menu as it contains dishes that are no more than 550 calories in value, strictly for the health-conscious consumers.
Teriyaki Shrimp Pasta 
Grilled seasoned shrimp, along with vegetables like broccoli, red peppers, carrots, sugar snap peas, bok choy, water chestnuts, and mushrooms is served atop steaming whole wheat Asian noodles in a rich teriyaki sauce with cilantro.
Signature Sirloin with Garlic Herb Shrimp
A 7 oz. Sirloin is grilled and topped with succulent shrimp in a light cream sauce and served with herb potatoes, seasonal vegetables, fresh bruschetta, sliced almonds, and chopped parsley. A feast fit for kings, right?
Grilled Shrimp & Island Rice
Once again, it is seasoned and grilled shrimp on skewers, served with citrus island rice and pineapple chunks. On the side, seasonal vegetables are served.
Succulent Seafood
This delicately named dish is delicate in taste. It is made up with grilled cajun-seasoned tilapia fillet, topped with lime juice, black bean, and corn salsa. It is usually served on a bed of rice pilaf with seasonal vegetables.
Double Crunch Shrimp
This scrumptious dish is a heaping platter of succulent shrimp, golden fried to perfection, and served with fries, cole slaw, and cocktail sauce.
Pasta
Cajun Shrimp Pasta
What could be better than shrimp and pasta put together. This dish is made with sautéed shrimp, made in blackened seasoning, and served over fettuccine noodles tossed in a Cajun scampi sauce (contains shellfish). You may order toasted garlic bread to go with it.
Provolone-Stuffed Meatballs with Fettuccine
Meatballs are a universal favorite of diners, more so in the US. However, these meatballs come with a twist. These are provolone cheese-stuffed meatballs, cooked in a rich marinara sauce having a hint of crushed red pepper. The meatballs are layered over tender fettuccine pasta lightly blended with Parmesan cream sauce, and served with toasted garlic bread.
Florentine Ravioli with Chicken
Sliced and grilled chicken is served over spinach and ricotta-stuffed half-moon ravioli in a roasted garlic Alfredo atop a blend of sautéed mushrooms, bruschetta, roasted red peppers, red onions, and fresh spinach. Usually had with a toasted garlic bread, this dish is enough to satisfy even the most ravenous of diners.
Kids' Menu
The children's menu at the Applebee's is a safe bet, what with classics like Chicken Tenders, Mini Cheeseburger, Grilled Cheese Sandwich, and Kraft Macaroni & Cheese, to be washed down with OREO Cookie Shake and ended with OREO Cookie Sundae. The only downside of this menu is that it may tempt the adults to order as well, much to the kids' chagrin!
Desserts
Maple Butter Blondie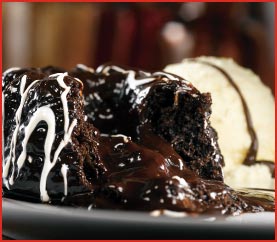 The name is gorgeous and so is this dessert, made with baked nuts, topped with both ice cream and chopped walnuts, and served sizzling at your table where it's covered with a rich, maple butter sauce.
You can't help but feel nostalgic while eating this classic combination of cheesecake, graham cracker crumbs, strawberry sauce, and whipped cream.
Triple Chocolate Meltdown
The name should be enough to keep the health freaks away but if you don't mind piling on a bit in return for a tasty end to a delicious dinner, then this triple chocolate meltdown is just for you. When you order this dessert, you get a magnificently moist chocolate cake, topped with both dark and white chocolate and its fudge-filled center that will erupt upon first bite!
Image Credit: applebees.com 
A Sneak Peek At Applebee's Menu