Top Restaurants in Pune
17 May 2011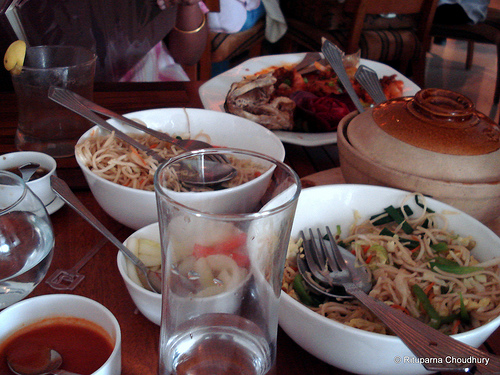 If you are looking for the top restaurants of Pune then this blog will help you to reach out to handful of them.  Pune is home to various high end eateries which offer multiple cuisines like Thai, Indian, French, Chinese and Continental. Following restaurants in Pune ought to be referred with special mention because they cater to people of varied taste preferences.
Mainland China

City Point, Gr. Floor, Dhole Patil Road,Boat Club, Pune - 411 001
This is considered to be one of the top restaurants in Pune. Living upto its reputation, the place encapsulates you with the warmth of some urban eater in the Mainland of China. Don't miss the opportunity to sink your teeth into khimchis and lemon and coriander soup.
Yo China
SGS Mall Camp, MG Road; Mariplex, Kalyani Nagar; Premier Plaza Mall,Chinchwad

 
In their own words Yo China is "India's first and largest chain offering Indian Chinese cuisine". Here they strive to offer the Chinese dishes with international culture. Don't leave the place without tasting the delicious dimsums served here.
Arthurs Theme
2, Vrindawan Apartment, Lane No 6, North Main Road, Koregaon Park, Pune
This place comes across as one of the best French restaurants in Pune. They encapsulate the French food traditions through their masterpiece dishes and recreate the French spirit for life through their sober but sophisticated French inspired interiors.       
Sanskruti

16, Gulistan Complex, K. B. Hidyatullah Road, , Opp. SPCA, Near Poona College, Pune-
This is one of the top restaurants in Pune due to many reasons. It demonstrates an uniquely appealing Indian culture of unity in diversity. And catch your attention by celebrating an event in honor of the food tradition observed across various states of India.  You need to make several visits to this restaurant to get the feel of various food cultures followed across India.
Garden Court Restaurant

76/2, NDA Road, Kothrud Road, Pune, Maharashtra 411029
This restaurant is placed on the top of a small hill and surrounded by different small hills which impart an air of passion to this place.  The pool side tables allow you to enjoy the meals at leisure pace. They offer vast array of dishes from North Indian and Chinese cuisine.
Pune offers far more and better food choices than any regular city of its genre. You need to spend out some time on discovering how the top restaurants in Pune are different from others across the country.
Top Restaurants In Pune