Top Restaurants in Leicester
13 May 2011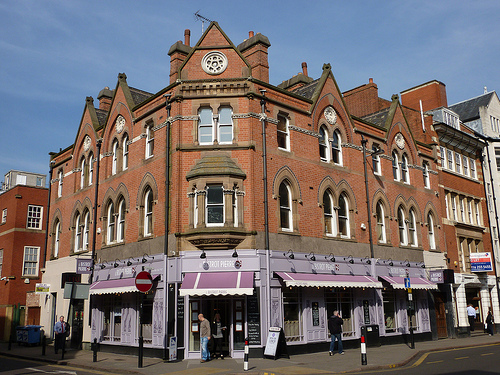 Leicester is home to some of the top restaurants in UK. The place serves as the melting pot of several cultures. Some of the top restaurants in Leicester have de-facto standards for following the global food culture. Due to this reason it becomes pretty difficult to choose the top restaurants amongst the best. Our vote for the best restaurants in Leicester goes to
Antibo

Address: 62 London Road, Leicester, LE2 5DH

This chain of restaurants are famous for their Italian dishes. This award winning restaurant will rock your senses with its appealing demeanor and encompassing atmosphere. It is home to freshly baked pizzas around Leicester. You won't feel leaving the place without ordering the one and Antibos yummy kebabs make for the deal.
Le Bistrot Pierre
8-10 Millstone Lane, Leicester, LE1 5JN

This is one of the best French bistros in Leicester. This is just situated in the heart of the city and is known for its lively and friendly atmosphere. It has established de-facto standards for serving food and is renowned for serving the provincial French dishes.  The food, ambience, staff- all makes it one of the top restaurants of Leicester.  Don't leave the place without tasting the chocolate mousse. 
Kayal
153 Granby St, Leicester LE1 6FE

Formerly Known as Hali Hill restaurant – it underwent a complete 360 degreee transformation to establish itself into the list of top restaurants in Leicester. This is the first restaurant in Leicester serving the South Indian Seafood.  The place lives upto its name which means backwater in Malayalam.
Almanack, The – Leicester
15 Bathhouse Lane, Highcross, Leicester, LE1 4SA

This elegant gastropub from Leicester welcomes visitors all seven days a week. They are famous for the liveliness, and seasonal foods.  The interiors, service and food – generate a feeling of fresh still the place retains an old world charm.

 

YO! Sushi - Highcross, Leicester
4 Highcross Lane, Leicester, LE1 4SD

This is one of the hip-hop Japanese restaurants in Leicester which serves about 80 of the Japanese inspired dishes.  It regales you with its Japanese charm.
Leicester inspires you to hunt for more. The top restaurants in Leicester offer diversity in terms of service, cuisine and ambience.
Image Courtesy:  flicker.com 
Top Restaurants In Leicester