Top Restaurants In Bournemouth

13 May 2011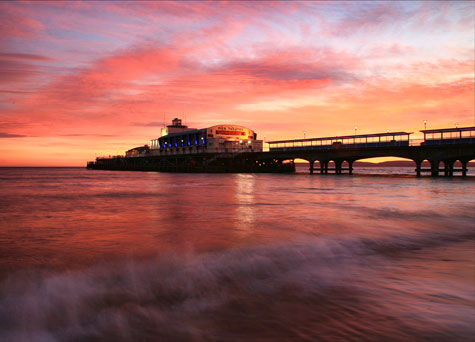 An endless stretch of beaches lapped up by the golden sands and the bustling cosmopolitan town, can leave you hungry for more, but our list of top restaurants in Bournemouth will help you appease those hunger pangs to give much energy to explore this vibrant city.
Bournemouth's top restaurants, a must-visit
• Highcliff grill Lounge and Bar: The sea-view from a sun-bathed terrace and the succulent and crunchy seafood, the scrumptious steaks are what this top restaurant in Bournemouth (atop a cliff) offers. Apart from the panoramic sea-views, the cozy ambience, the restaurant has much to sport in the beverages and cocktail section .

So check this out at St. Michaels Road, West Cliff, Bournemouth, Dorset BH2 5DU.
 • Storm Fish Restaurant Ltd :One of the top restaurants in Bournemouth is sure to take you by storm and not that you wont have your prize catch, because the Storm fish restaurant delivers the best, with the "home-made" freshness - Bass, mullet , shellfish, lobster, dived scallops, complemented by organically grown vegetables and tossed by the culinary expertise of a team "ocean-deep" in the seafood-encyclopedia. There is also the wine to go with the spirit of your dining. Even breezing by, the restaurant cannot be missed.
• Tapas Plus: As the name spells it out, this restaurant offers Spanish cuisine- the ever popular Tapas to go with the best of wine, beer, and other spirits of Spanish origin. So do not forget to revel in the authentically Spanish top restaurant in Bournemouth. The restaurant is located at 53 Bourne Avenue, Bournemouth, Do BH2 6DW.
• Café Rouge: For those seeking French in Bournemouth Café Rouge is the destination. Serving traditional French cuisine, the restaurant offers a break from the hustle and bustle in the Westbourne area. Here one can enjoy breakfast, lunch, dinner both as buffet and a la carte at this top restaurant in Bournemouth located at 67 Seamoor Rd Westbourne BH4 9AE.
• Romanza Greek Taverna : Being in a foreign land need not be a "Greek and Latin" experience as the welcoming ambience of this family-run top  restaurant in Bournemouth is sure to make you feel at home. Serving a wide range of Greek dishes from the steak to the traditional mezze which ooze with flavor,  you cant simply resist falling in love. The restaurant is located at 87 Poole Rd, Bournemouth BH4 9BB.

So, the next time you visit Bournemouth remember to look-up on the top restaurants in Bournemouth and whether you go surfing or sun-bathing feast your senses with the best flavors of the town!
Photo Courtesy : ngadventure.typepad.com 
Top Restaurants In Bournemouth